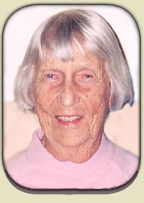 Hazel M. Alfons

HAZEL STOLZ ALFONS, age 94 of St. Petersburg, Florida died on Sunday, May 25, 2014 at Lake Shore Inn in Waseca, Minnesota.

Born on June 28, 1919 in Nicollet, Minnesota, she was the daughter of Fred and Hazel (Hughes) Stolz.  She attended Nicollet schools and graduated from Macalester College in St. Paul, Minnesota where she received her Bachelor and Master degrees. 

Hazel married Major John Alfons Jr., a pilot in the Marine Air Corps whom she met while they were both students at Macalester College.  John was killed in 1944 during WWII.  Upon his death, Hazel enlisted with the Army Air Corp and served until her honorable discharge in 1945. 

Hazel taught school in Minnesota and St. Petersburg, Florida where she retired from Dixie Hollins High School.  She enjoyed playing tennis and golf and had been a member of the St. Petersburg Country Club for 47 years.

She is survived by three nieces, Jane Bartelt, Ruth Grendahl and Kim Miller; two nephews, Tom Klaseus and Jim Stolz; and sister-in-law, Marion Stolz.  She was preceded in death by her parents; husband, Major John Alfons Jr.; son, Steeg; sisters, Ruth Stolz and Marian Klaseus; and brother, Charles Stolz.

Private burial will be held at a later date.  Dennis Funeral & Cremation Services of Waseca, Minnesota is handling arrangements.