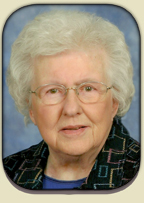 Doris A. Anderson

DORIS A. ANDERSON, age 85 of Waseca, died on Wednesday, September 24, 2014 at her residence at Latham Place in Waseca.

Born on September 5, 1929 in Greenwood, Wisconsin, she was the daughter of Howard and Anna (Lien) Hepburn.  She graduated from Prairie Farm High School in 1947 and went on to study stenography at Eau Claire Vocational School.  Doris married John A. Anderson on August 30, 1952 in Prairie Farm, WI.  They moved to Waseca in 1968 where Doris was employed at Mishek's and later the University of MN for several years before retiring.  She was a long time volunteer with Hospice, Lake Shore Inn and the Waseca Area Memorial Hospital.  Doris was a member of St. John Lutheran Church, WELCA, and the church quilters.

Doris is survived by two children, Mark (Joni) Anderson of Council Bluffs, IA and Karen (Mark) Byron of Waseca; five grandchildren, Meghan (Mikel) Finch of Sioux Falls, SD, Meredith (A.J.) Menden of Brandon, SD, Erica (Austin) Brockmeier of Liverpool, UK, Carrie (Jett Hitt) Byron of Noel, MO, and Andrew Byron of Corvallis, OR; and five great grandchildren.  She is also survived by several nieces and nephews. She was preceded in death by her parents, husband, and one brother, Melbourne Hepburn.

Funeral services will be held on Monday, September 29, 2014 at 11:00 AM at St. John Lutheran Church in Waseca with Rev. John Omans officiating.  Burial will follow at Woodville Cemetery.  Visitation will be held on Monday, one hour before services at the church.