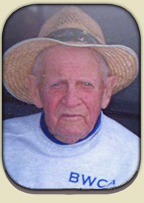 Kenneth "Gumpy" Anderson

KENNETH "GUMPY" ANDERSON, age 92 of Waseca died on Saturday, May 31, 2014 at his home in Waseca.

Born on September 30, 1921 in Waseca, Minnesota, he was the son of Elof and Elsie (Swenson) Anderson.  He attended school in Waseca and following his schooling, enlisted in the U.S. Army serving during WWII.  After his discharge, he worked with his father in the trucking business in Two Harbors.  He married Lila Mae Gerdts on July 3, 1947 in New Richland and they were later divorced.  Kenneth later worked for Herters in Waseca for many years before retiring.  He loved the outdoors and enjoyed fly fishing, trapping, and fishing.  He was a member of the Waseca VFW.

He is survived by five children, Gunnar Anderson of Oklahoma, Lonnie (Randy) Warner of Missoula, MT, Tom Anderson of Duluth, Tim Anderson (Harold Wilkie) of South Dakota, and Terry (Sally) Anderson of Waseca; 13 grandchildren; and 15 great grandchildren.  He is also survived by one sister, Dena (Victor) Bailey of Mankato.  He was preceded in death by his parents and siblings, Doris Matson, Clifford Anderson, Rahma Baker, Mildred Drews, and Bernell Anderson.

Funeral services will be held on Wednesday, June 4, 2014 at 2:00 PM at Grace Baptist Church in Waseca with Rev. Norm Freeburg officiating.  Burial will follow at Woodville Cemetery.  Visitation will be held on Wednesday, one hour before services at the church.