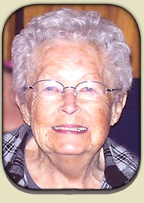 Dorothy (Rollins) Arp
DOROTHY (ROLLINS) ARP, age 89 of Waseca passed away peacefully at her home on Wednesday, March 26, 2014.
Born on September 10, 1924 in Waseca, Minnesota, she was the daughter of Harold and Agnes (Wencel) Webber. She attended school at Sacred Heart, graduating in 1943. Dorothy married LaVerne Rollins on May 9, 1945 in Lincoln, NE and they were later divorced. She married Adolf Arp on December 30, 1977 in Albert, Lea. Dorothy worked at the E.F. Johnson Co. and Birds Eye Division of General Foods in Waseca and was a homemaker. Her interests included feeding and watching the birds, squirrels and rabbits in her yard. Squirrels would even come up and take peanuts from her hand. She enjoyed working in her flower beds which were adorned with her many lawn ornaments and solar lights. Dorothy also liked watching her favorite westerns in the afternoon on TV Land. She was a caring mom and was always concerned about what was going on in each of her children's lives.
She will be truly missed by her children, Richard Rollins of Owatonna, Linda (Kenny) Peterson, Diane Mariner, Debbie (Syd) Hager and Kathy (Brian) Shifflett all of Waseca; nine grandchildren, Christopher (Alison) Mariner, Kimberly Garza, Stephanie Rollins, Michael (Jessica) Rollins, Jonathan Rollins, Aubrey Hager, Seth Hager, Daniel Wolfe Rollins, and Noah Shifflett; and six great grandchildren, Debra Rollins, Bradley Rollins, Elizabeth Rollins, Cole Mariner, Allie Mariner, and Max Mariner. She is also survived by one brother, Donald (Geri) Webber of Chanhassen; one sister-in-law, Patricia Webber of St. Cloud; and nieces and nephews. She was preceded in death by her parents; husband, Adolph; one brother, Harold; and daughter-in-law, Debby Rollins.
Visitation will be held on Sunday, March 30, 2014 from 2-4 PM at Dennis Funeral & Cremation Services in Waseca and continue one hour prior to the service at the funeral home on Monday.
Funeral services will be held at Dennis Funeral & Cremation Services on Monday, March 31, 2014 at 11:00 AM with Rev. Gregory Leif officiating. Interment will follow at Woodville Cemetery in Waseca.