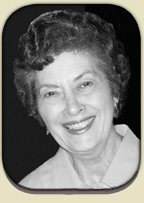 Rosanne Clara (Weydert) Barnard
Rosanne Clara (Weydert) Barnard, age 80, of Waterville, was called to be with her Lord on January 30, 2014.
The sixth of seven children, Rosanne was born to James and Anna (Reding) Weydert in Algona, Iowa, on May 30, 1933. At age 5, she and her family moved to Easton, Minn. In 1948, they moved to Good Thunder, and Rosanne attended high school at Good Counsel Academy in Mankato. She graduated in the class of 1951.
On February 11, 1956, she was united in marriage to George Hilliard Barnard. They were blessed with two sons and two daughters and made their home in Waterville, Minn., for 56 years.
After raising her children, Rosanne went to work as the first lay person to coordinate and direct the CCD programs at Holy Trinity Catholic Church. It was a position she held for 16 years.
Rosanne had many interests and hobbies, with music topping the list. She loved to sing, giving occasional in-studio radio performances when she was young. She organized and directed a church youth choir and was a parish organist. Additionally, she enjoyed playing piano at home and would regularly comply with the requests of her children and husband to play Debussy's classic "Claire de Lune."
Rosanne enjoyed flower-gardening, playing cards, and hosting parties. She was a member of the Rosary Society, the Sweet Adelines, and several Bridge clubs. She served as a political delegate and was a longtime election judge. She was also a high-school sports enthusiast and a volunteer aide for children with special needs.
Rosanne had a knack for decorating and was talented at making crafts. She enjoyed knitting, crocheting, quilting, and calligraphy. Eventually, all of these hobbies were replaced by her interest in genealogy. She spent many years researching and writing books about both her husband's and her own families, tracing the Barnard family back through 14 generations.
Nothing was more important to Rosanne than faithful and compassionate relationships. She had a sympathetic heart and always was the first to reach out to those in need. Because she welcomed all with open arms, her house and backyard were favorite gathering places for her children's friends. She provided her family with many wonderful experiences and spectacular holiday traditions, for which she will always be lovingly remembered. She will be remembered also for her immense generosity, unshakable courage, and faithful resignation to God's will. She loved with a full heart and was loved deeply in return.
Rosanne is survived by her children, Greg (Chris), Lisa (Phil) Hoeppner, Barb (Mark) Kluender, and Kevin; grandchildren, Natalie, Michael, and Daniel Barnard, and Katrina and Monica Kluender; sisters, Mary (Theodore) Wiebold, and Illa (Ronald) Krengel; brothers- and sisters-in-law, Harry and Marge Barnard, and William and Eloise Barnard; and many nieces and nephews. Rosanne was preceded in death by her husband, her parents, two brothers, Irvin and James Weydert, and two sisters, Velma Haeckel and Eleanor McGuire.
Mass of Christian Burial, Tuesday, February 4, at 11 a.m., Holy Trinity Catholic Church, 506 Common St., Waterville. Burial at Barnard Valley View Cemetery in Good Thunder.
Visitation, Monday, February 3, 4-7 p.m., (Rosary at 6:45 p.m.) Prosch-Dennis Funeral Home, 401 W. Main St., Waterville, and one hour prior to Mass at the church.