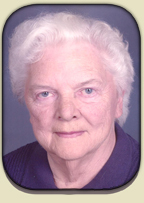 Lois C. Bauman
LOIS CLARA BAUMAN, age 88 of Waseca, died on Friday, September 19, 2014 at Mayo Clinic Health System in Waseca.
Born in Waseca County, Minnesota on November 30, 1925, Lois was the daughter of Fred and Clara (Forberg) Yess.  She attended rural Waseca country school.  On September 26, 1945, Lois married George "Trucker George" Bauman in Sioux Falls, South Dakota.  After raising her children Lois worked at Herter's Inc, Brown Printing, and the E.F. Johnson Company, all of Waseca.  Lois was a member of St. John Lutheran Church, and enjoyed playing cards, scratch offs, watching birds, going for drives, bingo, cooking, baking, entertaining, flowers and gardening. 
Lois is survived by children, LaVoy Baumann of Waseca, Gary Bauman of Waseca, Harlan (Donna) Bauman of Chimacum, WA, Georgette Hanson of Waseca, Orlin (Carol) Bauman of Waseca, and Dianne Bartelt of Waseca; one daughter-in-law, Gladys Bauman of Waseca; two sisters, Violet Sell of Waseca, and Betty Blowers of Wells; two sisters-in-law, Lois Yess and Ardella Yess; and many grandchildren, great-grandchildren and great great-grandchildren.  She was preceded in death by her parents; her husband; four brothers; four sisters; and three children, Marlyn Bauman, Arlene Carlson, and Gene Bauman.
Funeral services will be held at 11:00AM on Monday, September 22, 2014 at St. John Lutheran Church in Waseca, with Rev. John Omans officiating.  Visitation will be held one hour before the service at the church on Monday.  Interment will take place at a later date at Woodville Cemetery in Waseca.