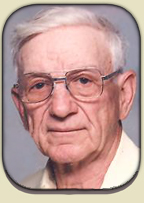 Paul W. Behsman
PAUL W. BEHSMAN, age 95 and long time resident of Waseca, died peacefully on Tuesday, February 11, 2014 at the New Richland Care Center following an extended illness.
Born on March 13, 1918 in Steele County, Minnesota, he was the son of William and Martha (Radke) Behsman.  He went to school in Meriden and worked for his dad on the farm.  On June 9, 1937, he was united in marriage to Eileen Yess at St. John Lutheran Church in Waseca.  He and his wife farmed for many years in Steele and Waseca Counties.  In his later years, Paul also worked as a handyman.  He was later a resident of Colony Court in Waseca before moving to the New Richland Care Center.  He enjoyed hunting and fishing with his sons and grandchildren.  Paul was a member of St. John Lutheran Church in Waseca.
Paul is survived by his daughter, Mary Ann Mundt of Owatonna; sons, Donald (Louise) Behsman of Verndale, James (Jane) Behsman of Sierra Vista, AZ, and John (Joan) Behsman of Swanville; 10 grandchildren; 19 great grandchildren; 8 great great grandchildren; 7 step grandchildren; 14 step great grandchildren; 12 step great great grandchildren; and 2 step great great great grandchildren.  He is also survived by one brother-in-law, Alvin Wobschall of Ellendale; one sister-in-law, Marge Behsman of Vermont.  He was preceded in death by his parents; his wife, Eileen in 1999; sisters, Ethel and Luella; brothers, Lavern, Herman, Harold, Lawrence, and Alvin; and two step great great great grandchildren.
Visitation will be held at Dennis Funeral & Cremation Services in Waseca on Sunday, February 16, 2014 from 3-6 PM and continue on Monday, one hour before services at the church.
Funeral services will be held on Monday, February 17, 2014 at 11:00 AM at St. John Lutheran Church in Waseca with Rev. John Omans officiating.  Burial will follow at Woodville Cemetery in Waseca.