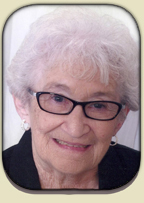 Mary Margaret "Margee" Bengtson

MARY MARGARET "MARGEE" BENGTSON, age 82 of Waterville, died on Monday, February 10, 2014 at Traditions of Waterville.

Born in Fairfax on November 9, 1931, Margee was the daughter of Frank and Catharine (Butler) Frassel. She attended St. Andrew's elementary school and Fairfax High School before attending the Mankato State Teacher's College in 1951. On June 27, 1953 she married Thomas A. Bengtson at St. Andrew's Catholic Church in Fairfax. She then returned to Mankato State to earn her Bachelor's Degree and later her Master's Degree in Special Education in 1981. She and her husband Tom taught in various area schools before coming to Waterville in 1956, where they were instrumental in starting the Special Education Program in the WEM schools. She also worked side by side with Tom in the Bengtson Tax Service for many years. Margee enjoyed reading, traveling, and sewing, but more than anything she cherished her family – especially her children and grandchildren. She was always very proud of her Irish Catholic Heritage, and was a member of Holy Trinity Catholic Church in Waterville where she enjoyed her involvement in two quilting groups and the Women's Guild. She was also a member of the Senior Citizen's Center, the Le Sueur County AARP, the Fatima Prague Group, and REAM.

She is survived by four children, Michael Bengtson of Mohave Valley, AZ (Terri Holling of Waterville); Sheila Bengtson of Mankato, Timothy (Carrie) Bengtson of Elysian, and Pegi (Mitchell) Wolff of Elysian; grandchildren, Tonya (Mike), Chelsie (Nick), Tiffany (Matt), Maggie, Samantha (Joey), Dustin, Dylan, & Danielle; eight great-grandchildren; extended family member, Donald (Peggy) Dusbabek of Red Wing; brothers-in-law, Jack (Pat) Bengtson of Mankato, Richard Bengtson of Plymouth, Don (Shirley) Bengtson of Hopkins, and Sam Bengtson of Scottsdale, AZ; sisters-in-law, Mary Frassel of Mankato, Sue (Gayle) Gillespieand Iva Nelson of Wabasha; special cousins Richard and Sandra Hellendrung of Fairfax; and several nieces and nephews. She was preceded in death by both of her parents; her husband; two brothers, Thomas and Eugene; and two sisters-in-law, Sharon and Virginia Bengtson.

Funeral services will be 11:00AM on Wednesday, February 12, 2014 at Holy Trinity Catholic Church in Waterville, with Rev. Michael Ince officiating. Visitation will be held from 9:30AM until the time of the service at the church. Interment will follow at Calvary Cemetery in Waterville. Dennis Funeral & Cremation Services in Waterville is handling the arrangements.