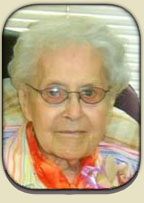 Verona A. Blasing
VERONA BLASING, age 89 of Mankato, formerly of Waseca and Janesville, died on Tuesday, October 7, 2014 at the Hillcrest Health Care Center in Mankato.
Born in Waseca on May 9, 1925, Verona was the daughter of Charles and Helene (Rieck) Woyke.  As a child of the depression, Verona understood the meaning of family.  As a young girl, she worked at the beach concession stand at Clear Lake throughout the summers. She graduated from Waseca public schools in the early 1940's before continuing her education at Augsburg College and the Minnesota School of Business in Minneapolis.  Verona then spent a year in Indiana working at a manufacturing plant that produced Gibson Girl radios for the military. She later returned to Minnesota and continued her career, which included 10 years as an accountant in Waseca County's welfare office. On May 12, 1957, she married Harry Blasing of rural Janesville.  She resided on the farm with her family, oversaw the business affairs, and raised her two children - Connie and Randy.  After her husband passed away in 1992, she continued to live in rural Janesville until she moved to Mankato in 2002. In 2008, Verona became a resident at Hillcrest Health Care Center where she lived until her death. 
Verona had a great love of music.  She sang in church choirs, lead children's choir in her home church of St. John's Lutheran, was a pianist and violinist, studied opera, enjoyed classical and big band music, and performed as a soloist throughout her life.  She also enjoyed painting in oils and watercolor, drawing, and sewing.  She enjoyed politics and was a life-long Republican, and was also life-time member of the Waseca VFW Ladies Auxiliary.  She was a member of Faith Lutheran Church in Janesville.
She is survived by one daughter, Connie Blasing of Hastings; one son, Randel Blasing of Mankato; one brother, Carl (Amy) Woyke of Minneapolis; and many nieces, nephews, and other family members.  She was preceded in death by both of her parents; her husband; and one brother, Walter Woyke.
Funeral services will be held on Saturday, October 11, 2014 at 1:00 PM at Dennis Funeral & Cremation Services in Waseca.  Burial will be at Woodville Cemetery.  Visitation will be held on Saturday, one hour before services at the funeral home.