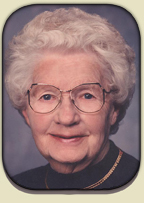 Annola B. Born

ANNOLA BERTHA BORN, age 97 of Waseca died on Monday, August 4, 2014 at Lake Shore Inn in Waseca.

Born on September 29, 1916 in New Richland, Minnesota, she was the daughter of Chris and Alma (Christenson) Shurson.  Annola graduated from New Richland High School and the Teacher's Training Program in New Richland.  She taught in rural Waseca County schools for several years.   Annola married Ervin Born on March 12, 1937.  Together they lived and farmed in St. Mary Township, Waseca County, Minnesota.  After moving to Lake Shore Inn, Annola expressed how much she enjoyed and appreciated the staff.  She had been a member of the Evangelical United Methodist Church where she was active with the church circle until the church closed in 2013. 

She is survived by two children, Margaret (John) Schroeder of Alexandria and David (Rita) Born of Waseca; four grandchildren, Deb (Al) Nocito, Tom (Julie) Born, Jay Schroeder and Julie (Dave) Danzeisen; and 7 great grandchildren.   She is also survived by one sister, Harriet Rubin of Dearborn, MI and several nieces and nephews.  She was preceded in death by her parents; her husband; one infant granddaughter; two brothers, Stanley and Russell; and one sister, Eleanor Gifford.

Funeral services will be held on Saturday, August 9, 2014 at 11:00 AM at Grace Lutheran Church in Waseca.  Burial will follow at Woodville Cemetery in Waseca.   Visitation will be held on Saturday from 9:30 AM until the time of services at the church.