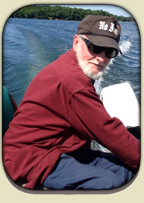 Francis "Fran" C.M. Borst
FRANCIS "FRAN" C.M. BORST, age 74 of Waterville, died on Saturday, May 3, 2014 at his home.
Born in Faribault on August 18, 1939, Fran was the son of Chub and Marie (O'Connor) Borst. He attended school in Faribault, graduating in 1957. He then enlisted in the United States Navy on January 7, 1958. On April 11, 1959, Fran married Pat Nelson while stationed in Vallejo, California. He was proud to have served at Pearl Harbor, HI for two and a half years. Following his honorable discharge from the service in 1961, he returned to Minnesota. Fran worked at Sheldahl in Northfield and later at Brown Printing in Waseca. He retired in 1994, after 22 years working at Brown's. During his retirement he and his wife owned and operated B&B Baitshop near Waterville. Fran enjoyed hunting, fishing, and all things outdoors. He also liked watching CNN, the Weather Channel, his stock tickers, and following Minnesota Sports. More than anything, though, he loved to spend time with his friends and family.
Fran is survived by his wife of 55 years, Pat Borst of Waterville; four children, Guy (Leah) Borst of Waterville, Diane (Scott) Truesdell of Clarks Grove, Scott (Lisa) Borst of Medford, and Kim Borst (Steve Morsching) of Madison Lake; twelve grandchildren; three step-grandchildren; eight great-grandchildren; nine step-great-grandchildren; two sisters, Kathleen Borst of Taylors Falls, Sherry Martinez of Idyllwild, CA; one half-sister, Charlene Hagle of Blaine; and his good friend and fishing buddy, Bill Chambers of Waterville. He was preceded in death by both of his parents; one sister, Carol Zuniga; one step-grandson, Ryan Truesdell; and his favorite Aunt and Uncle, Bob & Tootie Swanson.
At Fran's request, his remains have been donated to the University of Minnesota Anatomical Bequest program. A memorial visitation will be held in his honor from 4-7 PM on Friday, May 9, 2014 at Dennis Funeral & Cremation Services in Waterville.
In lieu of flowers, memorials are preferred to the American Cancer Society, VA, or Mayo Clinic Health System - Hospice.