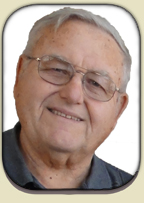 Roger F. Boyum
Roger F. Boyum, 72, of Elysian, MN died of cancer Saturday, August 9, 2014 in Roseville, CA.

Visitation will be Saturday, August 23 from 1-4pm at Dennis Funeral & Cremation Services in Waterville, MN.

A Celebration of Roger's life will be Sunday, August 24th at 12:30pm, preceded by visitation at 11:30am, at St. Paul's Lutheran Church on German Lake, Pastor Van Miller officiating. Interment will follow at Cedar Hill Cemetery in Elysian.

Roger, son of Oscar and Winifred (Beth) Boyum, was born August 31, 1941.  He grew up in Dundas, graduated from Northfield High School and served on the Northfield Fire Department. He began his 40-year baking career at Quality Bakery in Northfield, graduated from the Dunwoody and the American Institutes of Baking, and owned and operated bakeries in Mapleton and Rochester.  He travelled nationwide, working in the Bakery Mix Division of The Pillsbury Company, living in Vienna, VA.  His 22-year Pillsbury career included being named to the Director's Club for 5 consecutive years and multiple other company awards.

Roger married Marlys Antl of Elysian in 1966, and together they started their first bakery in Mapleton.  After Roger retired from Pillsbury in 1999, they moved back to MN to enjoy time with family, including assisting Marlys' parents in their final years.  They also started a successful lawncare business followed by garden tilling services.

Roger loved being with family, enjoyed travelling worldwide, reading, socializing, playing cards, bicycling, riding his scooter and tractors, and baking with his grandchildren.  He had a great sense of humor and was widely known for his puns, humorous off the cuff quips, and his genuine love for people (often shared through baked goods). He had a strong faith in God and put forth his best effort in whatever he did.
Roger is survived by his wife of 48 years, Marlys, son Kevin (Beth) Boyum, daughter Sally (Bill) Miller, seven grandchildren, brothers Norman (Joyce) Boyum and Neil Boyum, sister Arlene (Edward) Williams, sister-in-law Arliss Boyum, and many nieces and nephews.
He was preceded in death by his parents and brother Stanley Boyum.

Memorials will be directed to Sandra Schulze Hope Lodge, 411 2nd Street NW, Rochester, MN 55901.