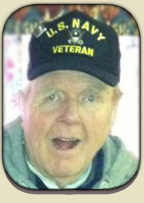 Alan "Big Al" Breck
ALAN LEE "BIG AL" BRECK, age 73 of Red Wing, formerly of Waseca, died on Sunday, January 5, 2014 at the Red Wing Health Care Center.
Born on November 11, 1940 in Waseca, Minnesota, he was the son of Ted and Ethel (Nevins) Breck.  He graduated from Waseca High School in 1958.  He enlisted in the U.S. Navy following high school and was stationed in Fallon, NV as an airplane mechanic.  Alan was disabled due to a plane crash in March of 1962.  He had enjoyed scuba diving and was an Elvis fan.  He was a former member of the Evangelical United Methodist Church in Waseca.
Alan is survived by one brother, Wayne Breck of New Richland and one sister, Kay (Joe) Sammon of Waseca.  He is also survived by nieces and nephews, Todd (Kelly) Breck of Janesville, Jayson Breck of Waseca, Tammy (Tom) Peterson of New Richland, Jodie Sammon of Boyd, WI, Jackie (Don) Nierman of Madelia, and Julie Sammon of Spirit Lake, IA; guardian, Bob McGuire of Waseca; and several great nieces and nephews.  He was preceded in death by his parents.
Funeral services will be held on Thursday, January 9, 2014 at 11:00 AM at Dennis Funeral & Cremation Services in Waseca with Rev. Victor Waters officiating.  Burial will follow at Woodville Cemetery in Waseca.  Visitation will be held on Thursday, from 9:30 AM until the time of services at the funeral home.