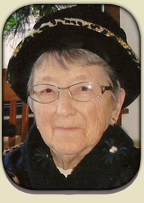 Hazel Bucek

HAZEL M. BUCEK, age 97 of Elysian, died on Tuesday, December 9, 2014 at the Waterville Good Samaritan Center.

Born in Hinsdale, Montana on October 29, 1917, Hazel was the daughter of William and Hannah (Clarke) Williams. At six months of age Hazel's family moved to the Elysian area. She attended Greenland Country School and Elysian Public Schools as a young woman. On October 6, 1937 Hazel married Leonard Charles Bucek in LeCenter. Together they raised their family and lived and worked their farm for the rest of their lives. She enjoyed crafts and working around the farm, cooking for her family and loved ones, gardening, and caring for her many pets. She loved to care for the land, and was often known to feed the birds and care for stray animals. A woman of unmatched fortitude, Hazel was loved by all for her kindness and generosity. Her candy jar was always full for friends and family and it was unlikely that you would ever leave her home empty-handed. She will be fondly remembered and sorely missed by all who knew her.

Hazel is survived by three children, Virginia (Marlyn) Zacharias of Owatonna, Janice (Craig) Eggers of Excelsior, and Dennis (Vera) Bucek of Coronado, Panama; six grandchildren; twelve great-grandchildren; one sister, Irene Warner of Waterville; one brother, William "Bud" Williams of Nashwauk; two special family members and caregivers that cared for Hazel when she was at home, Ronald Williams and Diana Alladin; several other nieces and nephews; and one truly beloved dog, Tazzy. She was preceded in death by both of her parents and her husband.

Visitation will be held from 4-7 PM on Friday, December 12, 2014 at Dennis Funeral & Cremation Services in Waterville and will continue for one hour before the service at the funeral home on Saturday.

Funeral services will be held at 10:30 AM on Saturday, December 13, 2014 at Dennis Funeral & Cremation Services in Waterville with Rev. Cindy Kennedy officiating. Interment will follow at Cedar Hill Cemetery in Elysian.