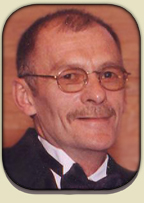 Steven L. Buker
STEVEN L. BUKER, age 65 of Waseca died on Thursday, June 19, 2014 at the Mayo Clinic Health System in Mankato.
Born on December 9, 1948 in Waseca, Minnesota, he was the son of Loren and Rachel (Neubauer) Buker.  He graduated from Waseca High School in 1966 and served in the U.S. Army during Vietnam.  Following his discharge, Steven began working for Design Homes in Waseca.  He married Renee Hoban on November 9, 1974 in Waterville.  He later worked as a farm equipment operator at the Southern Experiment Station for 25 years before retiring in 2004.  He enjoyed collecting tools, wood working, and working puzzles.  Most of all, he enjoyed spending time with his granddaughters.  He was a lifetime member of the Waseca VFW.
He is survived by his wife, Renee of Waseca; three daughters, Gwendolyn (Chad) Chicos of Waseca, Amanda Buker of Waseca, and Tiffany (Mitch) Sharpe of St. Louis Park; and four granddaughters, Mackenzie Chicos, Kaylee Chicos, Allison Chicos, and Ella Sharpe.   He is also survived by two sisters, Diane Krienke of Mankato and Debra Knish of Medford; two brothers, Ronald (Julie) Buker of Arizona and Gary Buker of Janesville; and many nieces and nephews.  He was preceded in death by his parents and two brothers, Rickey and Dennis.
Visitation will be held at Dennis Funeral & Cremation Services in Waseca on Monday, June 23, 2014 from 4-7 PM and continue on Tuesday, one hour before services at the church.
Funeral services will be held on Tuesday, June 24, 2014 at 11:00 AM at St. Paul Lutheran Church in Waseca with Rev. David Baumgarn officiating.