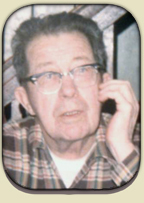 Myron J. Callahan
MYRON J. CALLAHAN, age 98 of Waseca died on Sunday May 4, 2014 at Lake Shore Inn in Waseca surrounded by his family.
Born on August 1, 1915 in Portage, Wisconsin, he was the son of Eugene and Gertrude (Benson) Callahan.  He attended school in rural Waseca County.  Myron served in the U.S. Army during WWII and fought in the Battle of the Bulge.  He married Jane Gill on August 23, 1967 in Le Center.  Over the years Myron worked at various places including Draheim Dairy, Central Soya Grain Elevator and Brown Printing Co. in Waseca until retiring.  Myron enjoyed wood working, model cars and working puzzles.  He was a member of Sacred Heart Catholic Church in Waseca.
Myron is survived by one step-son, Jim Gubluff of Hastings; three grandchildren; 9 great grandchildren; and 3 great great grandchildren.  He is also survived by one sister, Beulah "Bea" Callahan of Waseca.   He was preceded in death by his parents; wife; brothers, Lawrence and Lloyd Callahan; sister, Sarah "Sally" Callahan; one step-son, Donald Wobschall; and step-daughter, Joan Mischka.
Visitation will be held at Dennis Funeral & Cremation Services in Waseca on Wednesday, May 7, 2014 from 4-7 PM with a 7:00 PM parish prayer service and continue on Thursday, one hour before services at the funeral home.
Funeral services will be held on Thursday, May 8, 2014 at 11:00 AM at Dennis Funeral & Cremation Services in Waseca with Fr. Gregory Leif officiating.  Burial with military honors will follow at Woodville Cemetery in Waseca.