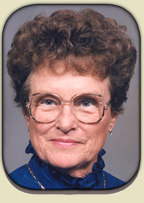 Cecilia "Cel" Frances Carlson
CECILIA "CEL" FRANCES CARLSON, age 93 of Waterville, died on Wednesday, January 29, 2014 at the Wellstead Assisted Living Facility in Rogers, Minnesota.
Born in St. Clair on September 27, 1920, Cecilia was the daughter of Harry and Elisabeth (Schalow) Dumbeck. As a young woman she attended school in Janesville. Following her schooling, Cel married Ruben Carlson. Over the years she worked at Bird's Eye Foods in Waseca, the E.F. Johnson Co. in Waseca, and ran the Reed's Lake boat landing, but she was primarily a homemaker – living and working with her husband on the family farm off of Reed's Lake. She enjoyed sewing, gardening, bird watching, dancing, making clocks (of which she had many), and visiting the casino.  Cel was a loving and caring person that was always willing to reach out and help those that might be in need.
Cecilia is survived by two daughters, Rita Carlson of Lawrenceville, GA, and Carol (Bill) Carlson-White of Florence, OR; four grandchildren, Theresa Grams of Maple Grove, Becky (Dean) Williams of Roswell, GA, Brian (Amy) Hodapp of Largo, FL, and Brad (Kim) Hodapp of Des Moines, IA; and six great-grandchildren. She was preceded in death by both of her parents; her husband; one sister, Deloris Dumbeck; and one brother, Floyd Dumbeck.
A visitation will be held from 2-4 PM on Thursday, February 6, 2014 at Dennis Funeral & Cremation Services in Waterville. Interment will take place at Calvary Cemetery in Waterville later this spring.
.