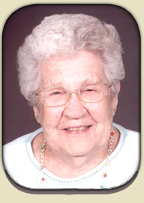 Lorraine I. Carlson

LORRAINE IDA CARLSON, age 94 of Waterville died on Wednesday, June 18, 2014 at the Waterville Good Samaritan Center.


Born on February 11, 1920 in Waseca County, Minnesota, she was the daughter of James and Myrtle (Wollam) Cummins.  She graduated from Janesville High School and married Vernon Carlson on July 30, 1937 at the Little Brown Church in Iowa.  After getting married, they lived and farmed in Waseca County for several years.  In addition to raising her six children, Lorraine worked at Brown Printing Company in Waseca and was also employed with the Department of Natural Resources.  She and her husband helped develop Sakatah Lake State Park in Waterville and Hayes Lake State Park near Roseau.  In their retirement, she and Vernon spent their winters in Texas.  Lorraine enjoyed playing cards, bird watching and fishing.  She was a member of North Waseca Lutheran Church.


She is survived by five children, Donna Fostveit of Waseca, Curtis (Gladys) Carlson of Waseca, Sharon (Marco) Medeiros of Brazil, Terri (Russel) Ingram and Debra (Richard) Chambers of Waterville; fourteen grandchildren, thirty-three great grandchildren and twenty-four great great grandchildren.


She is also survived by one sister-in-law, Marge Cummins of Fort Myers, Florida and many nieces and nephews.  She was preceded in death by her parents, husband, one daughter, one son-in-law, two grandchildren, one great grandchild, one great great grandchild, , two brothers and one sister-in-law.


Visitation will be held at Dennis Funeral & Cremation Services in Waterville on Friday, June 20, 2014 from 4-7 p.m. and continue on Saturday, one hour prior to services at the church.

Funeral services will be held on Saturday, June 21, 2014 at 10:30 a.m. at North Waseca Lutheran Church with Rev. Nancy Hansen officiating.  Burial will follow at North Waseca Lutheran Cemetery.