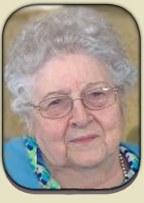 Jean Churchill
JEAN CHARLOTTE CHURCHILL, age 91 of Waseca, beloved wife and mother, passed away at Gardenview Nursing Home in Le Sueur on Sunday, April 27, 2014. 

She was born April 26, 1923, in Waseca, Minnesota, to the late William Henry and Carrie Skiff Wood. She attended schools in Waseca and graduated from Waseca High School in 1941.  She worked at the local Bell Telephone Co. as an operator during World War II. On April 7, 1943 she was united in marriage to Charles Henry Churchill of Washington, Iowa.  Jean was a mother and housewife for many years and later worked for Waseca School District for many years in the Food Services area.  She worked with Chuck as they tended their farm and worked as successful Watkins dealers.  Jean was a member of the Church of Jesus Christ of Latter-day Saints where she and Chuck helped in the building of the Waseca branch building. She was a member of the Order of Eastern Star in Waseca for many years.  She was also a long-time member of Sweet Adelines in Waseca for many years. 

She is survived by 3 sons: Dale Churchill of Langley, OK; Scott and his wife Dianne of Jordan, and Randy and his wife Camille of Seattle, WA; 14 grandchildren: Jason Churchill of Minneapolis, Joshua Churchill of Millsboro, DE, Kelly Churchill of Bloomington, Jeremy Churchill (Robin) of Bloomington, Kimberly Jepsen (Kevin) of  Langley, OK, Matthew O'Brien of Minneapolis, Sara Sangiovanni (Emilo) of  Minneapolis,  Emily Churchill of Mankato,  Melanie (Matthew) Velasquez of  Alexandria, VA,  R. Michael (Danielle) Churchill of Princeton, NJ,  Aaron (Yuka) Churchill of Coppell, TX,  Allen Churchill of  Los Angeles, CA,  Deverall (Tyson) Churchill Hafen of Las Vegas, NV, and Marina Churchill, Seattle, WA; and 15 great-grandchildren.  In addition to her parents, she was preceded in death by her husband Charles, her brother Henry, and one son, Gary. 

Visitation will be held at Dennis Funeral & Cremation Services on Thursday, May 1, 2014 from 4:00 PM to 7:00 PM and continue on Friday, one hour before services at the church.

Funeral services will be held on Friday, May 2, 2014 at 1:00 PM at the Church of Jesus Christ of Latter-day Saints, Waseca Branch. Branch President Bradley Donner will preside. Burial will be at Woodville Cemetery in Waseca.  

In lieu of flowers, memorial funds are preferred to the American Cancer Society.

We would like to thank all of the staff of Latham Place and Lake Shore Inn and Gardenview Nursing Home for their help and support for Jean for many years.