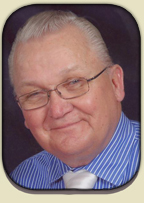 Douglas E. Clausen

DOUGLAS EMIL CLAUSEN, age 80 of Waseca, left the surly bonds of earth on Christmas night - Thursday, December 25, 2014.  He took his last breath at the Lakeshore Inn in Waseca with his wife Barb by his side.


Born in Mankato on July 29, 1934, Douglas was the son of Herbert and Evelyn (Krueger) Clausen.  He was raised on a farm near Pemberton and attended Pemberton High School where he played football and enjoyed dancing and carousing with his friends.  He enlisted in the U.S. Navy and trained as a Seabee–supporting Naval construction activities in Japan and the Philippine Islands (Cubi Point).  Upon return from service he continued to support his father's farm for several years. He met his bride to be, Barbara Jean Loken, through his brother Ronnie and his fiancé, Lois (Brandvold). Doug and Barb tied the knot in 1961, a year after Ronnie and Lois.  Doug then got the bug to travel and began selling Encyclopedias for Grolier Companies, traveling across Southern Minnesota, Iowa, and other nearby states. His efforts helped the new couple save enough for a home down payment. Their first home was built near Clear Lake in Waseca.  Doug later shifted gears again, moving back into the construction trades, delivering asphalt and moving homes for several years.  He later finished his work career as a uniform and textile deliveryman traveling across Southern MN.


Doug enjoyed fishing and hunting, was avid reader of outdoor literature, and was a connoisseur of outdoor sporting magazines. In recent years the first two questions that had to be answered at the start of each conversation were: "are you going deer hunting this year...and, have you ever been spearing?"  Doug was one of the few non-pro fisherman to be seen a local boat ramps with greater than five tackle boxes. When asked about the baits in one of the larger steel boxes, he'd reply they were "sucker baits...because I was the sucker that bought them!"  In his later years, Doug enjoyed gardening. His yield was high enough for the household, several neighbors, and regular sales at the Waseca Farmer's Market. If you had well-aged manure, Doug always had a spot for it.


Doug is survived by his wife, Barbara of Waseca; and two sons, Troy Clausen of Moorehead, and Trent (Carrie) Clausen of Elk River.  Both of the boys, now well into adulthood, are appreciative of the lessons learned about hard work, honesty, and "getting it done: - whatever "it" is.  He is also survived by three grandchildren, Dylan, Connor, and Cody; three siblings, David Clausen of Pemberton, Sharon (Royce) Doering of Good Thunder, and Ronnie (Lois) Clausen of Winterhaven, FL; and several nieces and nephews.  He was preceded in death by his parents; and one sister-in-law, Lorraine Clausen.

Funeral services will be held at 11:00 AM on Saturday, January 3, 2015 at St. John Lutheran Church in Waseca, with Rev. John Omans officiating.  Visitation will be held from 9:30 AM until the time of the service at the church.  Interment will follow at Woodville Cemetery in Waseca.