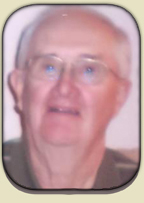 Gerald G. Donelan

GERALD GORDON DONELAN, age 85 of Waseca, died on Saturday, July 26, 2014 at Abbott Northwestern Hospital in Minneapolis.

Born in Waseca on March 7, 1929, Gerald was the son of Thomas and Vera (McGuire) Donelan.  He graduated from Janesville High School.  On October 14, 1950 he married Gertrude Harguth at St. Mary's Catholic Church in rural Waseca County.  Gerald farmed in the Waseca area all of his life.  He was an active member of Sacred Heart Catholic Church in Waseca where he participated in Knights of Columbus.  He was also a member of Farmers' Union and the FMHA Advisory Board.

Gerald is survived by his wife of 63 years, Gertrude Donelan of Waseca; six children, Mary (Ken) Schmidt of Owatonna, Colleen (Bob) Kramer of Waseca, Gerry (Rick) Rupprecht of Waseca, Bernard (June) Donelan of Waseca, Timothy (Shari) Donelan of Waseca, and Joan (Harold) Weber of Waseca; thirteen grandchildren; seven great-grandchildren; one sister, Frances (Lyle) Kunz of Waseca; and one sister-in-law, Marcy Donelan of St. Peter.  He was preceded in death by his parents; two sons, Timothy's twin brother in infancy – Thomas F. Donelan, and Damian Donelan; and one brother, Raymond Donelan.

Visitation will be held from 4-8 PM on Tuesday, July 29, 2014 at Dennis Funeral & Cremation Services in Waseca, and will continue for one hour before the service at the church on Wednesday.

The Funeral Mass will be held at 1:00 PM on Wednesday, July 30, 2014 at Sacred Heart Catholic Church in Waseca, with Rev. Greg Leif officiating.  Interment will follow at St. Mary's Catholic Cemetery in Waseca County.