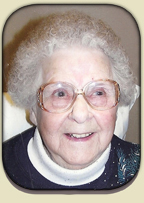 Viola L. Ferch

VIOLA L. "TOODY" FERCH, age 90 of Waterville, died on Wednesday, October 15, 2014 at the Good Samaritan Center in Waterville.

Born in Springfield, MN on April 21, 1924, Viola was the daughter of Theodore "Ted" and Lillian (Rose) Nickels. She attended the Emmanuel Lutheran School in Mankato as a young girl. She married Edward Gust Ferch on January 17, 1942 in Mankato. In her early working years she was employed at Glen's Bakeshop in Waterville, at Bird's Eye Foods in Waseca, and as a waitress in several restaurants in Waterville. In 1945 she started the best job of her life – raising her five children that were her pride and joy. In 1981 after her husband of 39 years passed away she started working at a program called Green Thumb at WEM Public Schools during the school year. She continued that job until retiring in 2007. During the summer months when school was out she worked for the cities of Waterville and Elysian. She loved singing, dancing, puzzle books, playing cards, baking, canning & cooking, fishing, and being with her family. One of her greatest enjoyments was taking the annual summer vacation with her family to places all over out west and north into Canada. She was a member of the Waterville Evangelical United Methodist Church where she had been a Sunday School teacher and Bible School teacher, and was also a member the United Methodist Women's Group, the Northside Club, the Monthly Card Club, and served as an election judge for many years.

Viola is survived by three sons, Brian Ferch of Waterville, Dennis Ferch and his husband David McShannock of Cortez, CO, and Bradley Ferch and his girlfriend Heather Volmer of Waterville; one daughter, Teresa Ferch of Waterville; one granddaughter, Krysten (Daylan) Callahan of St. Paul; and two twin great-grandchildren on the way. She is also survived by one sister, Evelyn Kopachek of Mankato; many nieces; nephews; cousins; two special friends, Craig and Lynn Connors of Waseca; and many other friends. She was preceded in death by all of her grandparents; both of her parents; her husband; one daughter, Barbara Ferch; two sisters, Ella Anton and Mary Distad; one brother, Elmer Nickels; and several brothers and sisters in law.

Visitation will be held at Dennis Funeral & Cremation Services in Waterville from 4-7 PM on Friday, October 17, and will continue for one hour before the service at the church on Saturday.

Funeral services will be held at 10:30 AM on Saturday, October 18, 2014 at the Evangelical United Methodist Church in Waterville, with Rev. Cindy Kennedy officiating. Interment will follow at Cannonville Cemetery in Le Sueur County.