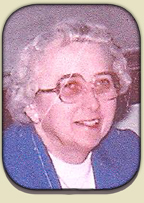 Elaine V. Flathers
ELAINE VIVIAN FLATHERS, age 88 of Waseca, died peacefully on Friday, November 28, 2014 at the Koda Living Community in Owatonna.
Born at St. Mary's Hospital in Rochester on May 12, 1926, Elaine was the daughter of Homer and Vivian (Raabe) Flathers.  Although she spent most of her first year with her parents in Summerland, CA, Elaine grew up on her family's farm near Stewartville, MN.  She attended grade school at Dogtown District 118 before graduating from Mankato High School in 1944.  She went on to continue her education at the Mankato State Teacher's College – graduating in 1948 with a Bachelor's degree in English.  Just two years later she completed her Master's degree in the same discipline while working as a teacher in Waseca.  Elaine made her career in the Waseca Public School system and taught grades seven through nine for 36 years until her retirement in 1984.
Elaine had a lifelong passion for the English language and she enjoyed reading, history, genealogy, and flowers.  She was a lifelong Christian and was a member of Faith United Methodist Church where she was active in the choir, women's circles, and altar guild for many years.  Over the years she enjoyed going on cross country trips with her dear friend, Carol Mahler, and would often visit family on the east coast and in the desert southwest.  Often with camera in hand, Elaine loved photography and has left her loved ones thousands of photographs to treasure.  More than anything, however, she loved spending lots of time with her friends and family.  She will leave many people with countless happy memories.
Elaine is survived by one brother, Harley (June) Flathers of Rochester; two nephews, Edward Flathers of Minneapolis, and and Jeffrey Flathers of Salinas CA; and two nieces, Emily Flathers of Phoenix, AZ, and Dr. Jane Flathers (Nie) of Springfield, MO.  She was also unofficially adopted as "Aunt Elaine" by four generations of the Reyant family: Nancy Reyant; Nancy's children, Kim, Daniel & Scott Reyant, Lisa Bjelland, and Laura (Brian) Peterson; Nancy's grandchildren, Jacob and Jared Reyant, Anna Peterson, and Elizabeth (Corey) Johnson; and the youngest generation – Eli and Noah Johnson.  She was preceded in death by both of her parents; and her dear friend, Carol Mahler.
Visitation will be held from 4-6 PM on Tuesday, December 2, 2014 at Dennis Funeral & Cremation Services in Waseca, and will continue for one hour before the service at the church on Wednesday. 
Funeral services will be held at 11:00 AM on Wednesday, December 3, 2014 at Faith United Methodist Church in Waseca, with Rev. Victor Waters officiating.  Interment will take place at Pleasant Grove Union Cemetery near Stewartville.  Memorials may be directed to the Sumner Center United Methodist Church in rural Racine, to Faith United Methodist Church in Waseca, or to a recipient of the donor's choice.  The family would also like to thank the staff at Koda Living Community for the excellent care and attention given to Elaine over the last three years.