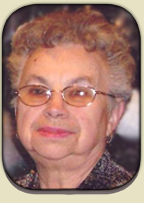 Marcella Goetz
MARCELLA ANN GOETZ, age 83 of Waseca died on Thursday, August 7, 2014 at Lake Shore Inn in Waseca.
Born on July 8, 1931 in Wausau, Wisconsin, she was the daughter of Burton and Rose (Matuszak) Hanke. She graduated from Wausau Senior High School in 1949.   Marcella married James Goetz on November 27, 1954 at St. Anne's Church in Wausau.   They moved to Waseca in 1956 where she was employed at the Waseca Journal.  Marcella loved to travel, take pictures, music, and watch all sports.  Most of all, she loved being with family and friends.   Marcella was a member of Sacred Heart Catholic Church and the Catholic Daughters.  She was also a member of the Waseca Senior Citizens, American Legion Auxiliary and Our Gang Club. 
She is survived by three sons, Richard and Sharon Goetz of Waseca, Thomas and Becky Goetz of Bloomington, and William and Penny Goetz of St. Cloud; six grandchildren, Joseph (Stephanie), Lucas, Jacob, Briana, Danielle (fiancé Darin), and Chelsea; and one great granddaughter, Adeline.    She is also survived by two brothers, John and Ginny Hanke of Wausau, WI and David and Diana Hanke of Irma, WI; and several nieces and nephews.    She was preceded in death by her parents; husband; and one sister, Florence in infancy.
Visitation will be held at Dennis Funeral & Cremation Services on Sunday, August 10, 2014 from 2-5 PM with a 2:30 PM Catholic Daughter's Rosary and a 4:45 PM parish prayer service.
Funeral Mass will be held on Monday, August 11, 2014 at 11:00 AM at Sacred Heart Catholic Church.   Burial will follow at Calvary Cemetery in Waseca.