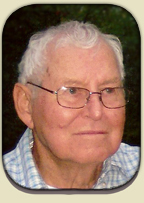 Charles Gregor

CHARLES FRANCIS GREGOR, age 84 of Waterville died on Friday, January 31, 2014 at his home.
                                                   
Charles was born on October 4, 1929 on the family farm in Waterville Township, Le Sueur County, Minnesota.  He was the son of Harry and Evelyn (Frodl) Gregor.  He attended country school near his home and later went to Waterville High School where he graduated in 1946.  Charles married Joan "Jody" Luker on October 2, 1951 and together they began farming in Waterville Township where they raised their five children, Stephen, Anne, Paul, Peter and Robert.  Charles loved being a family farmer raising milk cows, hogs and chickens and working together with his family. 

He was a devoted member of Holy Trinity Catholic Church serving in many ways.  He was a member of the Knights of Columbus and held many offices including Grand Knight.  He also served on the Le Sueur County Soil and Water Conservation board for many years.  He was a trustee at the Citizens State Bank of Waterville, an honorary member of FFA and a long-time leader in the 4-H program.  Most of all he was a wonderful husband and father.  His happiest times were when his family was home together.  A good neighbor and friend to everyone, he will be missed by all.

Charles is survived by his wife, Joan "Jody" of Waterville; children, Stephen Gregor (fiancé, Cathelene Ganas) of Stillwater, Anne (Dan) Sullivan of Lewiston, Paul (Liz) of Kilkenny, Peter (Sally) of Augusta, WI, and Robert (Tina) of Rochester; 11 grandchildren; and seven great grandchildren.   He is also survived by siblings, Sylvia (Bert) Mulcahey of Janesville and Arlie (Carol) Gregor of Minnesota Lake, sisters-in-law, Lucille Gregor of Waseca, Nancy Luker of St. Peter, and Judy Luker of New Ulm; and many nieces and nephews.    He was preceded in death by his parents; daughter-in-law, Rose Gregor; brother, Bernard Gregor; and sister, Bernice (Francis) Groh.

Visitation will be held on Tuesday, February 4, 2014 from 4-7 PM at Dennis Funeral & Cremation Services in Waterville and continue on Wednesday, one hour before services at the church.

Funeral services will be held on Wednesday, February 5, 2014 at 10:30 AM at Holy Trinity Catholic Church in Waterville with Rev. Michael Ince officiating.  Burial will follow at Calvary Cemetery in Waterville.