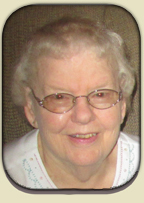 Eunice Hanson
EUNICE GENEVA HANSON, age 83 of Waseca, died on Friday, February 21, 2014 at Lakeshore Inn in Waseca.
Born in Dalton, Minnesota on October 2, 1930, Eunice was the daughter of Carl and Palma (Dahlager) Synstelien.  Eunice attended school in Dalton, Henning, and Fergus Falls.  She married Jairus "Jerry" Hanson at Zion Lutheran Church in Dalton on June 19, 1949.  She worked as a bookkeeper at various places in Fergus Falls until 1969, when they moved to Austin and she took a position as an office manager at a nursing home.  In 1984 they moved to Waseca and she worked in record keeping for the Waseca County Sherriff's office.  Eunice enjoyed traveling, bowling, embroidery, gathering collectibles, meeting new people, and playing the organ.  She was a member of Christ the King Lutheran Church in Waseca and she had sung in the choir in previous congregations.
Eunice is survived by her husband Jerry of Waseca; four children, Timothy (Trudy) Hanson of Loganville, GA, Lynette (Jim) Neus of Maple Grove, MN, Gregory Hanson of Clifton, CO, and Deborah (Jeff) Truax of Loganville, GA; thirteen grandchildren; sixteen great-grandchildren; and two siblings, Dorothy Kaasa of Osakis, MN, and Dennis Synstelien of Fergus Falls, MN.  She was preceded in death by her parents; daughter, Nancy Varner; brothers, Earl and Jerome Synstelien; and sister, Jeanette Brown.
Visitation will be held from 4-7 PM on Friday, February 28, 2014 at Dennis Funeral & Cremation Services in Waseca, and will continue for one hour before the funeral service at the church on Saturday. 
Funeral services will be held on Saturday, March 1, 2014 at 1:00 PM at Christ the King Lutheran Church in Waseca with Rev. Cary Larson officiating.  Interment will take place at Fort Snelling National Cemetery in Minneapolis at a later date.
.