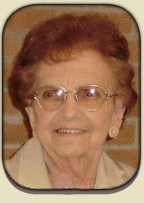 Evelyn J. Hartfiel
EVELYN JANE HARTFIEL, age 83 of Montevideo, formerly of Waseca, died on Wednesday, April 23, 2014 at the Granite Falls Hospital and Manor.
Born on November 19, 1930 in Waseca, Minnesota, she was the daughter of Edward and Ethel (Newcomb) Priebe.  Evelyn was a 1948 graduate of Waseca High School.  She married Robert Edwards on April 20, 1952 in Waseca and he preceded her in death in 1964.   Evelyn was a long time employee of Brown Printing Co. in Waseca.  She married Lionel Hartfiel on June 24, 1977.  Evelyn enjoyed sewing, crafts, ceramics, horseback riding, camping, fishing and spending time with her family.
She is survived by five children, Pam (Rick) Berends of Montevideo, Scott (Martha) Edwards of Buffalo, Sue (Dave) Monson of Shullsburg, WI, Laurie (Todd) Martin of Aberdeen, SD, and Jeff (Ellie) Edwards of Cincinnati, OH; nine grandchildren; and 12 great grandchildren.   She is also survived by two brothers, Edwin "Bud" (Ruth Ann) Priebe and Donald (Janet) Priebe all of Waseca; and several nieces and nephews.  She was preceded in death by her parents, husbands, and one sister, Jeanette Bauman.
Memorial services will be held at Dennis Funeral & Cremation Services in Waseca on Friday, May 9, 2014 at 1:00 PM with Rev. John Omans officiating.    Burial will follow at Woodville Cemetery in Waseca.  Visitation will be held on Friday, one hour before services at the funeral home.