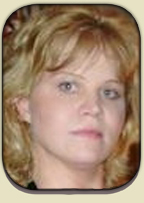 Ericka Hendershot
ERICKA (OLSON) HENDERSHOT, age 38, of Austin, formerly of Waterville died on Wednesday, October 15, 2014 in Austin.
Born in Deer River, Minnesota on April 5, 1976, Ericka was the daughter of Bert and Maxine (Wicklund) Olson.  Ericka attended school in Deer River and later moved to Waterville with her family.  Through the years she had been a stay at home mom and enjoyed singing and spending time sewing.
Ericka is survived by her two children, Myia Hendershot of Enid, OK and Michael Evans of Waseca; eight siblings, Jennifer (Lloyd) Grobe of Waterville, Jeffrey Olson of Deer River, Jacqueline (Michael) Coy of LeCenter, Joel (Mitzi) Olson of Deer River, Jeanne (Jack) Dunker of Janesville, Joyce (David) Evans of Waseca, Jill Olson of Faribault, and Bert Jr. (Shirley) Olson of Deer River; as well as many nieces, nephews, and friends.
Funeral services will be held at 1:00 PM on Monday, October 20, 2014 at Dennis Funeral and Cremation Services in Waterville, with Rev. David Mumme officiating.  Visitation will be held one hour prior to the service at the funeral home on Monday.  Interment will follow at Calvary Cemetery in Waterville.