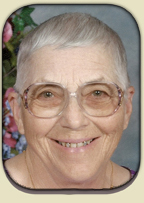 Dorothy M. Hermel
DOROTHY M. HERMEL, age 90 of Waterville died on Thursday, October 23, 2014 at the Waterville Good Samaritan Center.
Born on December 2, 1923 in Blackduck, Minnesota, she was the daughter of Elmer and Pauline (Dusbabek) Melstrom. She attended school in Blackduck, staying with relatives in town and returning home on the weekend. While visiting relatives in Waterville, she met Harold Hermel and they were married on February 28, 1946 at the EUB Church in Waterville. They lived on the family farm in rural Waterville. Dorothy also worked at Brown Printing Co. in Waseca for 15 years before retiring in 1983. After retiring, she continued to work on the farm. She enjoyed raising the farm animals, having a large garden, baking, playing cards and bingo, and most of all, spending time with her 11 grandchildren and 25 great-grandchildren.
She is survived by one son, Gary Hermel (Barb Haslip) of Waterville; two daughters, Ruth (Dennis) Johnson of Montrose, CO and Bert Howard (Alan Bartholmey) of Winnebago; 11 grandchildren; 25 great-grandchildren; and daughter-in-law, Peggy Hecht. She was preceded in death by her parents; husband; one daughter, Irene Hermel; one son, Charles "Chopper" Hermel; and one brother, Melvin Melstrom.
Visitation will be held at Dennis Funeral & Cremation Services in Waterville on Sunday, October 26, 2014 from 2-5 PM and continue on Monday, one hour before services at the church.
Funeral services will be held on Monday, October 27, 2014 at 11:00 AM at the Evangelical United Methodist Church in Waterville with Rev. Cindy Kennedy officiating. Burial will follow at Sakatah Cemetery in Waterville.