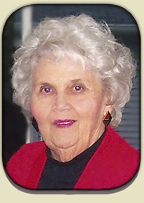 Leora P. Hogan

LEORA PATRICIA HOGAN, age 91 of Kilkenny, passed away surrounded by the blessings of her loving family on Monday, November 17, 2014 at the Long Term Care Center in Northfield, Minnesota.

The earth was truly blessed on August 17, 1923 when Jim and Agnes (Finnegan) Healey welcomed Leora, their second child, into the world.  Leora grew up in Kilkenny and attended St. Canice Catholic School before graduating from Montgomery High School in 1941.  She continued her education at Lee's Beauty College in St. Paul.  Upon graduation, Leora took a job as a beautician in downtown Minneapolis.  During this time she met and married Jeremiah Patrick Hogan.  They were married in St. Canice Church in Kilkenny on June 14, 1952. 

Leora and Jerry lived in Janesville, just off old Highway 14.  They had a total of seven loving children, all of which meant the world to her.  Always active in politics, she served as the county chair for the DFL in the 1960s.  Leora began working at the E.F. Johnson Co. in Waseca where she worked for 14 years before retiring in 1984.  She then relocated back to her hometown of Kilkenny following her husband's passing.  Leora remained active in politics, serving on the city council.  She was also active at St. Canice throughout her entire life.

Always a lily amongst the thorns, her beauty-inner and outer always shined despite any problems that surrounded her.  Family meant the world to her and she was quick to sacrifice any and everything for the good of her family.  Her full-blooded Irish wit never failed her or anyone who ever had the pleasure of her company.  Her kindness and sincerity will be greatly missed by anyone who had the pleasure of meeting this truly wonderful woman.   Whether you were in her life for a minute or a lifetime, she loved everyone!  Unfailingly kind, sweet, gentle, always a positive and happy natured personality, especially with family around, she will be greatly missed by any and everyone who had the luck to have been blessed with her friendship.  To know her was to love her and anyone who knew who knew her, knew that to love her was to be loved.  If you're lucky enough to be Irish, you're lucky enough.

She is survived by six children, Helen (Steve) Clarke of Rosemount, John Hogan of Kilkenny, Patricia (Peter) Reintjes of Waterville, Michael Hogan of Lakeville, Mary Hogan of Mankato, and Dennis (Nada) Hogan of Farmington; and four grandchildren, Robert Reintjes, Joseph Clarke, Matthew Clarke, and Tommy Robertson.  

She was preceded in death by her parents; husband; daughter, Maureen Hogan; granddaughter, Darah Lynn Robertson; and one sister, Regina Knish.

Visitation will be held at Dennis Funeral & Cremation Services in Waterville on Friday, November 21, 2014 from 4-7 PM with a 7:00 PM Rosary and continue on Saturday, one hour before services at the church.

Funeral services will be held on Saturday, November 22, 2014 at 11:00 AM at St. Canice Catholic Church in Kilkenny.  Burial will follow at the St. Ann's Catholic Cemetery in Janesville.