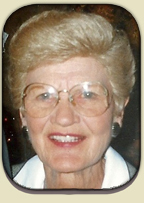 Dorothy I. Hruska
DOROTHY I. HRUSKA, age 90, of Waterville, died on Thursday, December 25, 2014 at Traditions of Waterville.
Born in Worthington on January 20, 1924, Dorothy was the daughter of Ward and Mildred (Coon) Gartamaker. Dorothy attended school in Reading, Minnesota. On September 20, 1941 she married James Hruska in Waterville.
Along with her husband, she co-founded and worked as curator of the Le Sueur County Historical Museum for many years, and later succeeded Jim as the museum's director for an additional nine years. She was a life member of the Minnesota Territorial Pioneers; a life member of the Le Sueur County Historical Society; President of the Le Sueur County Historical Society and a board member from 1970-1973; an annual member of the Minnesota Historical Society from 1965-1979; an annual member of the Minnesota Historical Society Women's Organization; a member of the Smithsonian Institution from 1969-1979; a board member for Gish Families of the World from 1969-1979; a board member of the Minnesota Association of Historical Agency Administrators from 1969-1971; a member of the Waseca Arts Council; and was a Minnesota Museum Educators member from 1977-1979. In 1976-1977 she received the Bicentennial Community Leaders and Noteworthy Americans Award.  Dorothy had been a contributor to the Le Sueur County Atlas in 1975, served as the editorial advisor for "Stepping Stones" a history of the Waterville-Elysian Area, and "Pioneer Chronicles" Minnesota Territorial Pioneers.  She was also associate editor of  "Remember When" – History of Kilkenny, Minnesota, in 1978.  Her own biography has been published in numerous Who's Who publications, and in several international biography compilations.   Dorothy held a deep love for the Le Sueur County Historical Museum and it was her ambition to help build up its art collections and to improve its displays and interpretation of local history. She always referred to the museum as "the school that never stopped teaching". Jim and Dorothy's dream was to establish an art center in Elysian featuring the art of Adolf Dehn and other local renowned artists. She always endeavored to help preserve as much of her country's heritage for future generations as possible. 
Dorothy enjoyed collecting art and antiques, sewing, knitting, cooking, and traveling.  She had traveled frequently to Europe and had visited her ancestral homes in Germany and Czechoslovakia.  She had also traveled to Spain, Portugal, Austria, France, Switzerland, and Monte Carlo.  She visited Rome in 1973 where she had a private audience with the Pope.  She was a long-time member of Holy Trinity Catholic Church in Waterville where she was very active in the Rosary Society.
Dorothy is survived by one son, David (Linda) Hruska of Waterville; five grandchildren, Timothy (Patty) Hruska of Sun Prairie, WI, Daniel Hruska of Waseca, Julie (Brad) Meister of Morristown, Andrew Hruska of Cypress, TX, and Christina (Scott) Holmes of Greenfield; seven great-grandchildren; and eight great-great-grandchildren. She was preceded in death by both of her parents; her husband; and two brothers, Oliver Coon and Donald Gartamaker.
Visitation will be held from 4-7 PM on Sunday, December 28, 2014 at Dennis Funeral & Cremation Services in Waterville, and will continue for one hour before the service at the church on Monday.
The funeral mass will be held at 11:00 AM on Monday, December 29, 2014 at Holy Trinity Catholic Church in Waterville with Rev. Michael Ince officiating. Burial will follow at Calvary Cemetery in Waterville.