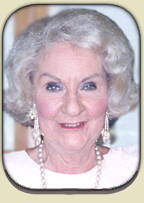 Jean Huffington
JEAN HUFFINGTON, age 91 of Waterville, died peacefully on Sunday, December 21, 2014 at her daughter's home in Eagan.
Born in Mankato on August 21, 1923, Jean was the daughter of Percy and Agnes (Fitcher) Wirig. After graduating from Mankato Teacher's College High School, she attended Mankato Teacher's College and the University of Minnesota. She married Herb L. Huffington on September 3, 1947 in Madison Lake. A homemaker for most of her married life, Jean also enjoyed volunteering with various organizations in Waterville. Jean's interests included cooking, reading, music, cats, and interior decorating. She was a member of Holy Trinity Catholic Church in Waterville.
Jean is survived by two daughters, Carla (Mike) Bird of Eagan, and Lauri (Greg) Trapani of Palm Desert, CA; two sons, Paul (Linda) Huffington of Owatonna, and Mark (Laurie) Huffington of Eagan; eight grandchildren; and numerous great-grandchildren. She was preceded in death by her husband, Dr. Herb L. Huffington; and loving granddaughter, Tyler Huffington.
Funeral services will be held at 11:00 AM on Friday, December 26, 2014 Holy Trinity Catholic Church in Waterville, with Rev. Michael Ince officiating. Visitation will be held for one hour before the service at the church. Interment will follow at Sakatah Cemetery in Waterville. In lieu of flowers, memorial donations may be made to the Gillette Children's Specialty Healthcare Cerebral Palsy Center in St. Paul, Holy Trinity Catholic Church in Waterville, or to an organization of the donor's choice.