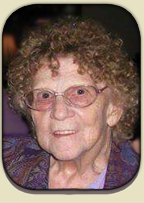 Shirley (Dahle) Hager Jenkins
SHIRLEY ANN (DAHLE) HAGER JENKINS, age 83 of Waseca died on Tuesday, December 16, 2014 at the New Richland Care Center.
Born on February 19, 1931 in Waseca, Minnesota, she was the daughter of Sydney and Antonia (Young) Dahle.  Her paternal grandfather, Jens T. Dahle and maternal great grandfather, Burgiff Olson were Minnesota pioneers, having immigrated in the early 1850s from Norway.  Jens T. Dahle also fought with the 1st MN as a sharpshooter in the Civil War.  Shirley grew up on the Jens T. Dahle family homestead in Blooming Grove Township. 
She graduated from Waseca Central High School and moved to the Twin Cities to stay with her Aunt Nettie while attending nursing school.  Shirley married Raymond A. Hager on February 26, 1949.  They lived and farmed in Blooming Grove Township where they raised their 8 children.  They were later divorced.   In the late 1960's, Shirley completed her LPN studies and worked at the Faribault State Hospital and St. Lucas Care Center.  She always had a great satisfaction helping others.  She had also worked at Birds Eye and Brown Printing in Waseca. Shirley married Ralph Jenkins on December 29, 1988 at Grace Lutheran Church in Waseca. 
Shirley is survived by eight children, Dayle Ann Hager of Madison, WI, Raymond C. (Ann) Hager of Mankato, Sydney (Debra) Hager of Waseca, Dawn (Gary) Schwartz of Waseca, Charles Hager of Montgomery, Mark (Vicky) Hager of Morristown, Michael Hager of Lacrosse, WI, and Robert (Bonnie) Hager of Hartland; 21 grandchildren; and 25 great grandchildren.  She is also survived by seven step-children.   She was preceded in death by her parents; husband; one sister; four brothers; daughter-in-law, Margaret Ann Hager; and three granddaughters, Valerie Hager, Jessica Hager, and Elysha Hager.
Visitation will be held at Dennis Funeral & Cremation Services in Waseca on Friday, December 19, 2014 from 4-7 PM and continue on Saturday, one hour before services at the church.
Funeral services will be held on Saturday, December 20, 2014 at 11:00 AM at Grace Lutheran Church in Waseca with Rev. Paige Whitney officiating.  Private family burial will be held at Woodville Cemetery.