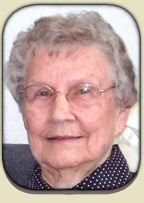 Leola Joecks
LEOLA JOECKS, age 82 of Waseca died on Monday, March 24, 2014 at Colony Court in Waseca.
Born on March 31, 1931 in Mankato, Minnesota, she was the daughter of Johannes and Therese (Ulsmaag) Riple.  She attended school in Pemberton before graduating from Bethany Lutheran in Mankato in 1949.  Following high school, Leola continued to study voice at Bethany as well as studying cosmetology at Mankato Beauty School.  She married Kenneth Joecks on June 6, 1953 at Medo Lutheran Church in rural Pemberton.  Together they lived and farmed in Wilton Township, Waseca County.  As a lyric soprano, Leola sang for countless weddings, funerals and other church functions.  She was a member of Trinity Lutheran Church-Wilton where she taught Sunday School and had been active with the Ladies Aid.
She is survived by four children, Jerome Joecks of New Richland, Twyla (Thomas) Agness of Coon Rapids, Debra (James) Howson of Waterville and Craig Joecks of Waseca; 12 grandchildren; and five great grandchildren.  She is also survived by two sisters, Arline (James) Kochmann of Denver, CO and Nancy Riple of Glendale, AZ and many nieces and nephews.  She was preceded in death by her parents; husband; one brother, Kenneth Riple; one sister, Daphne Bruns; and one infant granddaughter, Carla Joecks. 
Funeral services will be held on Saturday, March 29, 2014 at 4:00 PM at Dennis Funeral & Cremation Services in Waseca with Rev. Dr. Eugene Chase officiating.  Burial will follow at Woodville Cemetery.   Visitation will be held on Saturday from 1:00 PM until the time of services at the funeral home.