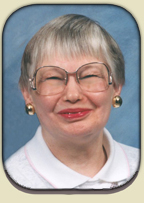 Melba Katterhagen
MELBA KATTERHAGEN, age 82 of Waseca, died on Thursday, July 24, 2014 at the Lakeshore Inn in Waseca.
Born in Gutches Grove, MN on January 15, 1932, Melba was the daughter of Henry and Amanda (Flycht) Johnson.  Melba's father died later that same year so she was raised on the family farm by her mother and seven siblings. 
She graduated from Long Prairie High School in 1949, and the following year married Robert Royce Katterhagen on August 24, 1950 at St. Mary's Catholic Church in Long Prairie. 
Melba worked at Hart's Printing in Long Prairie from 1948 until 1952.  She then became a full time homemaker.  In 1953, the Katterhagen family moved to Janesville, and since 1954 they have lived in Waseca.
She generously gave of her time in service to her community.  She volunteered with Waseca's Sacred Heart Catholic Church Ladies' Guild, often organizing the pillow puff.  She was an officer with the American Cancer Society, and was honored for her dedicated service to that organization. 
She made calls for TeleCare for nearly 20 years and was a member of a Bridge Club for approximately 30 years.  For nearly 45 years, Melba volunteered in various ways, especially by shopping for residents of Lake Shore Inn. 
Over the years, Melba had treasured the trips to Long Prairie to visit her family.  She had also enjoyed reading, baking, making candy, decorating with knick-knacks, and caring for her houseplants.  She collected dolls, as well as spoons and thimbles from the places she had traveled.  In recent years, she enjoyed playing cards, having visits from family, and savoring sweet treats of all kinds.
With a diagnosis of Alzheimer's disease in her early 70's, Melba's husband cared for her in their home for several years.  In January of 2008, Melba became a resident of Lake Shore Inn in Waseca where she continued to receive loving care until her death.
Melba is survived by Robert Katterhagen, her beloved husband of 63 years; two sons, Bob (Sue Dudzik) Katterhagen of Custer, WI, and Mark (Lois Halbur) Katterhagen of Yankton, SD; two grandchildren, Kyle and Kate Katterhagen of Yankton, SD; one sister, Betty (Bud) Eaton of Kenosha, WI; and one sister-in-law, Maxine Johnson of St. Paul.  She was preceded in death by her parents; four brothers, Ed, Art, Gus, and Norman; and two sisters, Edna and Mildred.
The Funeral Mass will be held at 11:00 AM on Monday, July 28, 2014 at Sacred Heart Catholic Church in Waseca with Fr. Gregory Leif officiating.  Visitation will be held one hour prior to the service at the church on Monday.  Interment will follow at Calvary Cemetery in Waseca.