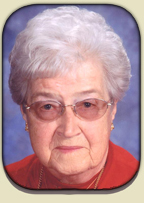 Leona M. Kedrowski
Leona Mary Kedrowski, of Latham Place, Waseca, MN, died on Sunday, October 19, 2014, following a brief stay, at Homestead Hospice House in Owatonna, after 92 fabulous years of life.
Leona grew up in Flensburg, MN, one of eight children of Peter & Sophie (Peschel) Golombiecki, and married Jack Kedrowski of Little Falls in October, 1942.  They made their home in Waseca shortly thereafter.  Jack and Leona had five children, Jane (Mark) Chronister of Bloomington; Betty (Rick) Mattson, Waseca; Shirl Kedrowski of San Mateo CA; Bob (Barb) Kedrowski of Avon, CO, and Rich (Agneta) Kedrowski of Grand Junction, CO.  Following her husband's death in 1967 Leona was left to raise five young children.
Leona worked at EF Johnson Company in Waseca for 25 years.  Upon retiring Leona loved to travel and devoted her time to her family, as well as volunteering in the Waseca community.  She spent endless hours of volunteer time serving at the Senior Citizen Center; Sacred Heart Church and School; Waseca Neighborhood Service Center, Lake Shore Inn, and Waseca Eagles Club.   She had a great gift of helping out where needed and always believed in giving back to the community. She was given the Outstanding Volunteer of the Year award three different years for Waseca County for her tireless efforts. 
Leona loved to cook and bake, was an avid quilter, and loved embroidering, playing cards, putting together jigsaw puzzles and playing bingo.
In addition to her children, Leona is survived by her brother, Jerry (Edna) Golombiecki of Little Falls; sisters-in-law, Agnes, Frieda and Beatrice; 12 grandchildren and 5 great grand children; numerous nieces, nephews and many wonderful friends.
She was a wonderful example of kindness, with an outstanding attitude of pitching in to get things done.  She will be deeply missed by all who knew her.
Visitation will be held on Friday, October 24, 2014 from 5-8 PM at Dennis Funeral & Cremation Services in Waseca with a 7:30 PM parish prayer service and continue one hour prior to the service at the church on Saturday.
The funeral mass will be held on Saturday, October 25, 2014 at 10:00 AM at Sacred Heart Catholic Church in Waseca with Fr. Gregory Leif officiating. Interment will follow at Calvary Cemetery, Waseca.   Casket bearers will be her grandchildren.
In lieu of flowers, memorials are preferred to Waseca Sacred Heart School or to Latham Place Assisted Living of Waseca.