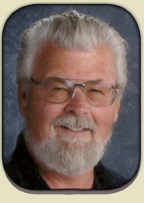 Byron "Buzz" Kendall
BYRON "BUZZ" KENDALL, age 66 of Waterville died on Thursday, November 13, 2014 at his home.
Buzz was born on June 16, 1948 in St. Paul, Minnesota.  He attended school in Le Center.  In 1965, he moved to Waterville and married Sandy Studer at Trinity Lutheran Church in Waterville on January 20, 1967.  Buzz was employed in Waterville throughout his life.  In his early years he worked at H&S Logging and Jax's Manufacturing and in 1981 he purchased Mertin's Fish Market.  Buzz began working as custodian at the Waterville-Elysian/Morristown Public Schools in 1985, retiring in 2011 after 26 years.   
He was a member of the Minnesota Street Rod Association (MRSA), Lakeside Club in Waseca, and Trinity Lutheran Church in Waterville.  He enjoyed golfing, street rods, cards, camping, traveling, and going to flea markets.  His greatest moments were spent with his family and watching his grandchildren participate in school activities.
He is survived by his wife, Sandy; two sons, Curt (Misty) Kendall and Tim Kendall all of Waterville; four grandchildren; two step-grandchildren; and one step-great grandchild.  He is also survived by siblings, Rick (Genie) Kendall of Waterville, Skip Morris of Waseca, Butch Morris of Belle Plaine, Brian (Colleen) Morris of Waterville, Bonnie Perez of Faribault, Bernadine Morris of Mankato, Rocky (Angel) Mertins of Elysian, Gayla (Mike) Bartelt of Kilkenny, and LaVonne (Leroy) Boettcher of Elysian; brother-in-law, Jim (Jolene) Studer of Waterville; sisters-in-law, Cindy (Jerry) Pehrson of St. Peter and Shirley Morris of Waseca; and many nieces and nephews.  He was preceded in death by his mother, Yvonne (Williams) Mertins; brothers, Bingo Morris and Butch Mertins; and nephew, Tracy Morris.
Visitation will be held on at Dennis Funeral & Cremation Services in Waterville on Sunday, November 16, 2014 from 4-8 PM.
Memorial services will be held on Monday, November 17, 2014 at 11:00 AM at Trinity Lutheran Church in Waterville with Rev. David Mumme officiating.