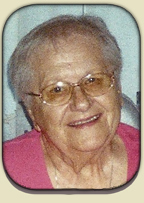 Regina Kewatt
REGINA ROSELLA KEWATT, age 84 of Waterville, passed away on Wednesday, April 2, 2014 at Traditions of Waterville.
Born in Faribault on July 8, 1929, Regina was the daughter of William and Frieda (Hagel) Spitzack. Regina was married to Roland Zimbrich for twenty one years before they divorced. In 1969, Regina married Orville Kewatt in Brookings, South Dakota. They were married for 37 years. Regina lived all her life in Kilkenny and Waterville. She worked for 26 years as an Arc Welder and inspector for Mercury Minnesota in Faribault and also wrote the Kilkenny News for the Lake Region Life and the Montgomery Messenger for many years. She is a member of St. John Lutheran Church in Kilkenny, was an active member of the American Legion Auxiliary for over fifty three years, and enjoyed the Senior Citizen's Club and attending card club. Regina was an avid Twins fan, loved to do crafts, enjoyed fishing and feeding the birds and was proud to be the first female City Councilwoman in Kilkenny. More than anything, though, Regina loved to be with her family. The love she showed in her feasts will be long remembered by her family and friends not only for the food, but because "A good time was had by all".
Regina is survived by six children, Maryann Meyman of Waterville, Kathy (Mick) Reintjes of Elysian, Ken (Mary) Kewatt of Shakopee, Larry (Millie) Kewatt of Columbia Heights, Marcia (Ed) Herrgott of Shakopee, and Colleen (Dave) Mattke of New Ulm; one daughter-in-law, Dorothy Zimbrich of Waterville; one sister, Annabelle Christenson of Albert Lea; one sister-in-law, Gertrude Spitzack of Waterville, seventeen grandchildren; thirty five great-grandchildren; two great-great-grandchildren; and many special nieces and nephews. She was preceded in death by both of her parents; her husband, Orville; one son, Charles Zimbrich; two brothers; two sisters; one son-in-law, Joe Meyman; and three grandsons.
Visitation will be held from 4-8 PM on Monday, April 7, 2014 at Dennis Funeral & Cremation Services in Waterville, and will continue for one hour before the service at the church on Tuesday.
Funeral Services will be held at 10:30 AM on Tuesday, April 8, 2014 at St. John Lutheran Church in Waseca, with Rev. John Omans officiating. Following a luncheon at the church, interment will take place at Concordia Cemetery in Morristown Township.