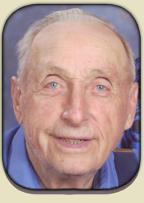 Harvey Leo Kohlhoff
HARVEY LEO KOHLHOFF, age 90 of Elysian, died on Saturday, August 9, 2014 at Mayo Clinic Health System Mankato.
Born in Elysian Township on May 25, 1924, Harvey was the son of Ruben Leo and Lillie Meta (Wendt) Kohlhoff.  Growing up, Harvey attended Swain country school while also working the land with horses on his family's German speaking farm.  He married Lois Krause on November 8, 1944 at Trinity Lutheran Church in Smith's Mill.  He was drafted into the United States Army near the end of World War II, and he served proudly until his honorable discharge in August 1946.  Harvey enjoyed playing in the Elysian Band for many years.  He wrote insurance for Midstates Insurance in Waseca and German Mutual in Norwood-Young America for many years while continuing to work the farm.  Harvey was a member of St. Peter's Bell Lutheran.  He was a past member of the American Legion, a lifetime member of the VFW, served as a past Elysian Township Supervisor, was on the finance board at church, was always willing to help a neighbor in need, and always made a strong effort to treat everyone fairly.  He enjoyed attending farm auctions, playing euchre, pheasant hunting, and visiting with friends. 
Harvey is survived by his wife of 69 years, Lois of Elysian; one son, Daryl L. (Carolyn) Kohlhoff of Baraboo, WI; one daughter, Dianne M. (Aaron) Gahler of Elysian; two granddaughters, Jessica (David) Kohlhoff of Beaver Dam, WI, and Stephanie (Nathan) Huff of Wichita, KS; one great-grandson, Ender Huff ; and a number of cousins.  He was preceded in death by his parents.
Visitation will be held from 4-8 PM on Wednesday, August 13, 2014 at Dennis Funeral & Cremation Services in Waterville, and will continue for one hour before the service at the church on Thursday.
Funeral services will be held at 11:00 AM on Thursday, August 14, 2014 at St. Peter's Bell Lutheran Church in Le Sueur County, with Rev. Russ Grabau officiating.  Interment will follow at Cedar Hill Cemetery in Elysian.