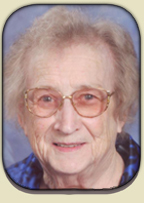 Lois M. Kohlhoff
LOIS M. KOHLHOFF, age 89 of Elysian, died on Friday, August 29, 2014 at Oak Terrace Assisted Living in North Mankato.
Born on March 2, 1925, in LeRay Township, Blue Earth County, Minnesota, she was the daughter of John and Edna (Popham) Krause. She was a descendant of the first white child born in Waseca County after Minnesota became a state. Lois grew up on a farm near Smith Mill's/Janesville. She attended school in Smith's Mill where she participated in 4 – H and Glee Club.
She married Harvey L. Kohlhoff on November 8, 1944 at Trinity Lutheran Church in Smith's Mill. While Harvey was in the service, Lois taught at Waldorf Public School for two years. She then joined Harvey on his family farm in Elysian Township where she enjoyed gardening, canning, and making jams & jellies. Lois loved to bake, was an excellent cook, raised a large flock of laying hens every year and drove tractor when needed. She also worked as assistant cook at the Singing Hills Girl Scout Camp. Her other hobbies included crocheting, knitting, sewing, and reading a good auto biography or history book.
Lois was a member of St. Peter's "Bell" Lutheran Church where she taught Sunday and Vacation Bible School. She loved the little tots and teaching them was her greatest joy.
Lois is survived by one son, Daryl L. (Carolyn) Kohlhoff of Baraboo, WI; one daughter, Dianne M. (Aaron) Gahler of Elysian; two granddaughters, Jessica (David) Kohlhoff of Beaver Dam, WI, and Stephanie (Nathan) Huff of Wichita, KS; and one great-grandson, Ender Huff. She is also survived by one sister, Lorna Sexton of Waseca; one sister-in-law, Katryna Krause of Scottsdale, AZ; and many nieces and nephews. She was preceded in death by her parents, husband, four sisters, two brothers, and two nieces.
Visitation will be held at Dennis Funeral & Cremation Services in Waterville on Tuesday, September 2, 2014 from 4-8 PM and continue on Wednesday, one hour before services at the church.
Funeral services will be held on Wednesday, September 3, 2014 at 10:30 AM at St. Peter's "Bell" Lutheran Church with Rev. Russ Grabau officiating. Burial will follow at Cedar Hill Cemetery in Elysian.