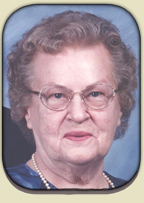 Elaine Helen Kramer
ELAINE HELEN KRAMER, age 89, died peacefully at her home in Waseca on Saturday, January 25, 2014.
Born in Wilton Township, Waseca County on May 10, 1924, Elaine was the daughter of Ewald and Irene (Roesler) Gehring. She attended rural school district #18 before graduating from Waseca Central High School. She spent her early years working at the E.F. Johnson Company and Bird's Eye Foods in Waseca. On May 26, 1948, Elaine married Francis Kramer in Waseca. Shortly after their wedding they moved to the farm in Wilton Township where they continued to live and work for fifty years. Upon retiring, Elaine and Francis moved into Waseca. She was a member of the Waseca Eagle's Club Auxiliary and attended Sacred Heart Catholic Church where she was active in several circles.
Elaine is survived by six children, Bob (Colleen) Kramer, Richard Kramer, Ron (Marlee) Kramer, and Julie Kramer and her special friend Dave Rollins all of Waseca, Janet Kramer (Jim Hinton) of New Richland, and Jackie Kramer (Steve Hecker) of Lakeville; seven grandchildren, Scott Kramer, David ( Laurie) Kramer, Kristi Blake (Mark Mondloch), Travis Blake (Heather Ziemke), Jared Boumeester, Jill Born, and Matt Kramer; seven great-grandchildren; two sisters, Phyllis Nelson of New Richland and Helen Weckwerth of Waseca; one brother-in-law, Ernie (Alvena) Kramer of Waseca; and one sister-in-law, Dolly Powell of Waseca. She was preceded in death by both of her parents; her husband in 2004; one infant during childbirth; and one sister, Gladys Barden.
Visitation will be held from 4-7 PM on Tuesday, January 28, 2014 at Dennis Funeral & Cremation Services in Waseca. Visitation will continue on Wednesday for one hour before the service at the church.
Funeral services will be held at 1:30 PM on Wednesday, January 29, 2014 at Sacred Heart Catholic Church in Waseca, with Rev. Gregory Leif officiating. Interment will follow at Calvary Cemetery in Waseca.
.