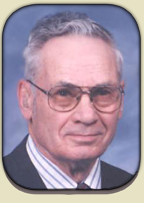 Ernest J. Kramer

ERNEST "ERNIE" KRAMER, age 94 of Waseca passed away on Saturday, April 26, 2014 at Colony Court.

Born on September 12, 1919 in Algona, Iowa, he was the son of John and Margaret (Klein) Kramer.  The family moved to Waseca in 1921and he attended Sacred Heart School in Waseca.  Following his schooling, Ernest did farm work and also worked at Swift and Co. in Waseca.  He was united in marriage to Alvena Offersen on April 16, 1941 at Sacred Heart Catholic Church by Father Raymond Snyder.  Ernest continued farming until 1960 when they moved into Waseca and he was employed at Hartley Elementary School until his retirement in 1985.  He was a member of Sacred Heart Catholic Church and Our Gang Club in Waseca.   He was the former treasurer and 4-H Leader and had served on the school board of rural Waseca County School District #54.  Ernest loved and enjoyed spending time with his family, playing cards, fishing, wood working and traveling.  He and Alvena had traveled to all of the lower 48 states as well as Alaska and Denmark.   He was a loving husband and father.

He is survived by his wife of 73 years, Alvena of Waseca; four children, Joann Rigdon of Mankato, Duane (Yvonne) Kramer of Effie, Diane (Loren) Michael of Mapleton, and Linda (Mike) Wabner of Waseca; 11 grandchildren; 26 great grandchildren; 4 great great grandchildren; and 3 step grandchildren.  He is also survived by one sister, Delores Powell of Waseca; sisters-in-law, Melba Larson of Waseca and Donna Larsen of Detroit Lakes; many nieces and nephews; and in a special way, Verna and John Johnson of Byron.   He was preceded in death by his parents; five sisters, Cornelia Lynaugh, Eleanor Gibbs, Margaret Johnson, Marie Kruse, and Leona McShane; four brothers, Edwin, Bernie, John, and Francis; and son-in-law, Bill Rigdon.

Visitation will be held at Dennis Funeral & Cremation Services in Waseca on Monday, April 28, 2014 from 4-8 PM with an 8:00 PM parish prayer service and continue on Tuesday, one hour before services at the church.

The funeral mass will be held on Tuesday, April 29, 2014 at 11:30 AM at Sacred Heart Catholic Church in Waseca with Fr. Gregory Leif officiating.  Burial will follow at Calvary Cemetery in Waseca.