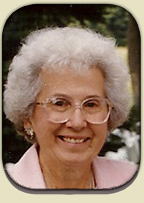 Lucille Krause
LUCILLE MARY KRAUSE, age 87 of Waterville died on Friday, February 28, 2014 at her home in Waterville.
Born on November 8, 1926 in Waterville, Minnesota, she was the daughter of Edward and Christina (Hoschka) Zimbrich. She graduated as salutatorian from Waterville High School in 1944. Following high school, Lucille began working at the high school as secretary. She retired as secretary to the Superintendent after 42 years. Lucille married Robert Krause on June 4, 1951.
Lucille enjoyed walking and she loved to travel, having taken many day trips. She was also enthusiastic about all Minnesota sports, both professional and local sports teams. She was an active member of Holy Trinity Catholic Church in Waterville where she was a Eucharistic Minister, serving communion at the local nursing home for many years. She was also a member of the VFW Auxiliary, Coffee Partners, and was active with the Retired Teachers Association.
Lucille is survived by two nieces, Mary (Dexter) Reynolds Haney of Portland, OR and Maryann Zimbrich Meyman of Waterville and one nephew, Roger Reynolds of Portland, OR; great nieces and nephews, Tiffani Haney, Derek Haney, Patrick Niles and Raymond Reynolds all of Portland, OR, Brian (Cindy) Zimbrich of Waseca, Bradley (Jody) Zimbrich of Janesville, Robert Zimbrich of Waterville, Stacy Zimbrich of Waseca, Chuck (Amber) Warnemunde of Faribault, and Christa (Tony) Ferguson of New Prague; and many great great nieces and nephews. Lucille is also survived by many dear friends. She was preceded in death by her parents; her husband in 1980; one brother; three sisters; and one nephew, Charles Zimbrich.
Visitation will be held at Dennis Funeral & Cremation Services in Waterville on Friday, March 7, 2014 from 4-8 PM with a 4:30 PM rosary service and continue on Saturday, one hour before services at the church.
Funeral services will be held on Saturday, March 8, 2014 at 10:00 AM at Holy Trinity Catholic Church in Waterville. Burial will follow at Calvary Cemetery in Waterville.