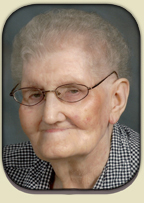 Leona P. Lau
LEONA P. LAU, age 92 of Waterville answered the Lord's call to come home on Tuesday, October 21, 2014.
Born on April 15, 1922 in Waterville, Minnesota, she was the daughter of Frank and Emma (Munske) Watzek.  Leona graduated from Waterville High School.  As a young woman, she worked as a waitress.  There she met the love of her life – Leonard Lau.  They were married on June 5, 1946.  Leona worked many years in retail, primarily at Leuthold & Fonda in Waterville.   She enjoyed needle point, doing puzzles and watching Viking football and game shows.  Her greatest joy was hearing about the lives of her sisters and her nieces and nephews who all enjoyed her baking talents.  She was a member of Trinity Lutheran Church in Waterville.
She is survived her sister, Mary Ann Fulton of Waterville, nieces and nephews, and many friends.  She follows to heaven her parents, husband, and two sisters - Chris Koutavas and Eva Hasner.
Memorial services will be held on Saturday, November 1, 2014 at 10:30 AM at Trinity Lutheran Church in Waterville with Rev. David Mumme officiating.  Burial will follow at Sakatah Cemetery in Waterville.   Visitation will be held on Saturday, one hour before services at the church.  Dennis Funeral & Cremation Services of Waterville is handling arrangements.
Memorials are preferred to Mayo Clinic Hospice in Mankato.