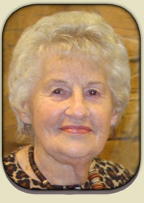 Evelyn E. Linde
EVELYN E. LINDE, age 87 of Waseca died on Tuesday, April 8, 2014 at St. Mary's Hospital in Rochester.
Born on August 17, 1926 in Fraser Township, Martin County, Minnesota, she was the daughter of William and Gertrude (Martens) Wilkening.  She attended rural Martin County School District #14 and Welcome High School before graduating from Grasston High School.  She married Philip Linde on January 26, 1947 at Hope Lutheran Church in Grasston.  Evelyn worked at Sears & Roebuck in Minneapolis and in Waseca. In 1973 she began working as the assistant to the librarian at Waseca High School until her retirement in 1991.  As a devoted wife and mother and grandmother, she treasured her time with family and was always there to support, assist, encourage and cheer them on.  Evelyn also enjoyed reading, gardening, bird watching, traveling, quilting and bowling.   She was a long time member of North Waseca Lutheran Church, serving in many different capacities.  Evelyn also served on the Waseca County Planning & Zoning Board, was an election official and a volunteer at Lake Shore Inn, Waseca Art Center, Waseca Hospital and the Red Cross Blood Drive.
She is survived by three children, Genelle (Daniel) Wolf of Rosemount, Gregory (Barbara) Linde of Waukee, IA and Gwen (Mickey) Grabowski of Inver Grove Heights; five grandchildren, Amy Blaz (Jim Carlson), Brandon (Laura) Wolf, Briana Linde, Kimberly Linde, and John Linde; and two great grandchildren, Jasmine and Ali Blaz.  Evelyn is also survived by one brother, Bill Wilkening of River Falls, and several nieces and nephews.   She was preceded in death by her parents, husband, and four brothers, Vernon, Everett, Lloyd, and Maynard Wilkening.
Visitation will be held at Dennis Funeral & Cremation Services in Waseca on Tuesday, April 22, 2014 from 4-8 PM and continue on Wednesday, one hour before services at the church.
Memorial services will be held on Wednesday, April 23, 2014 at 10:30 AM at North Waseca Lutheran Church with Rev. Nancy Hansen officiating.  Burial will follow at North Waseca Lutheran Cemetery.
In lieu of flowers, memorials are preferred to Lutheran World Relief, Kids Against Hunger or the North Waseca Lutheran Cemetery Fund.