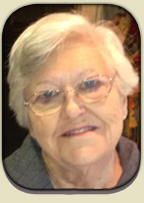 Susan Ann Lynch
Susan Ann Lynch of Waseca passed into heaven on August 24, 2014.
Beloved mother, grandmother, wife, sister, aunt, cousin, and friend, Sue's 78 years were defined by her faith and love of family. Preceded in death by mother Margaret, father Lloyd, and dear friend & sister in-law Maxine Lynch, she will be remembered for her selflessness, sense of humor, and humility in a funeral Mass at Sacred Heart Catholic Church in Waseca (111 4th St. NW) on Saturday, August 30, 2014 at 11:00 AM, followed by lunch at the Starfire Event Center. Visitation will be held one hour before the service at the church.
Her husband Don, daughter Pat, and sons Jim and Tom honor the devoted, affectionate care Sue received from Lake Shore Inn and Owatonna Hospice providers in her final weeks of life. Loved by many, Sue will be missed by all for her loyalty, wisdom, generosity, and integrity.
At her request, Sue's body was bequeathed to the University of Minnesota Anatomical Bequest Program. In lieu of flowers, memorials are preferred to Owatonna Hospice.