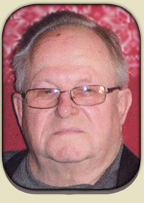 Loren A. Malling

LOREN A. MALLING, age 75 of Waseca died on Saturday, December 6, 2014 at St. Mary's Hospital in Rochester.

Born on August 27, 1939 in Bloomington, Illinois, he was the son of Rev. G.W. and Irma (Vatthauer) Malling.  He graduated from Waseca High School in 1957 and went on to attend Mankato State University.  Loren then served in the U.S. Army and the Army Reserves for six years. He married Elaine Brandmire on September 2, 1960 in Janesville.  Loren was employed at Herter's Inc. in Waseca making bows and later worked as a custodian at the Southern School of Agriculture.  He continued his employment at the University of Minnesota –Waseca as a gardener and following their closing, worked for the Faribault Vocational Center teaching at the federal prison in Faribault.   In addition, Loren also did taxidermy work and blade sharpening.   He enjoyed hunting, fishing, camping, golfing, woodworking, and gardening.  He also loved spending time with his grandchildren.   Loren was a member of Trinity Lutheran Church-Wilton and the Men's Club.  He was also a member of the Waseca American Legion and Garden Club.

He is survived by his wife, Elaine; two children, Heidi Malling of Central High, OK and Timothy (Laura) Malling of Paynesville; and five grandchildren, Amelia, Erik, Noah, Margaret and Levi.  He is also survived by two brothers, Arlen (Janette) Malling of New Hope and Enno (Carol) Malling of Show Low, AZ; and several nieces and nephews.   He was preceded in death by his parents.

Visitation will be held at Dennis Funeral & Cremation Services in Waseca on Monday, December  8, 2014 from 4-8 PM and continue on Tuesday, one hour before services at the church.

Funeral services will be held on Tuesday, December 9, 2014 at 11:00 AM at Trinity Lutheran Church – Wilton with Rev. Larry Sipe officiating.  Burial will follow at Woodville Cemetery.