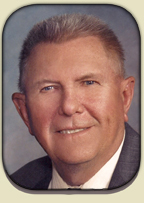 Robert E. Marzahn
ROBERT EDWARD MARZAHN, age 85 of Waterville died on Tuesday, September 9, 2014 at Traditions in Waterville.
                                                
Born on September 29, 1928, he was the son of Mason and Freida (Goltz) Marzahn.  His ancestors settled in the Waterville area in 1856.  He graduated from Waterville High School and married Shirley VanZee on December 19, 1953 at the First Presbyterian Church in Kasota.   Robert had many family members who operated businesses in the area.  Robert operated a large family farm and was very proud of his roots and success.   He enjoyed tractor pulls, auctions, farming and socializing.  He had been active in 4-H in his youth and when his children were involved as well.  Robert was a member of the Evangelical United Methodist Church in Waterville.
He is survived by five children, Gail (Pat) Caven of Amboy, Debbie (Roger) Lamont of Waterville, Bruce (Teresa) Marzahn of Waterville, Suzanne (Jeff) Johnson of Waseca, and Jerry (Karen) Marzahn of Waterville; 15 grandchildren; and 6 great grandchildren.  He was preceded in death by his parents; wife; one brother, Donald Marzahn; infant grandson, Daniel Johnson; infant granddaughter, Mileah Marzahn; and numerous aunts, uncles and cousins.
Visitation will be held at Dennis Funeral & Cremation Services in Waterville on Sunday, September 14, 2014 from 2-6 PM and continue on Monday, one hour before services at the church.
Funeral services will be held on Monday, September 15, 2014 at 10:30 AM at the Evangelical United Methodist Church in Waterville.  Burial will follow at Sakatah Cemetery in Waterville.