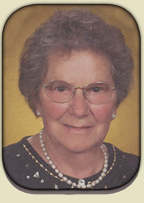 Myrtle F. Matz
MYRTLE F. MATZ, age 91 of Owatonna, formerly of Waseca, died on Friday, May 30, 2014 at her daughter's residence in Steele County.
Born on September 30, 1922 in Waseca County, Minnesota she was the daughter of Edwin and Vida (Fette) Ruedy.   She attended school in rural Waseca County before graduating from Waseca High School in 1941.  Following her schooling, she worked on her aunt and uncle's farm near Meriden.  She married Stanley Larson on July 31, 1944 in Humboldt, IA.  She then worked at various locations including Birdseye Division of General Foods, Herters Inc., and Buker's Country Store.  Following Stanley's death, Myrtle married Vinton Matz on May 25, 1979 at Grace Lutheran Church in Waseca.    Myrtle enjoyed gardening, baking, fishing, word searches, playing cards and checkers and especially spending time with her family and friends.   She was a member of Grace Lutheran Church and the Senior Center in Waseca.  Most recently, Myrtle attended St. John's Lutheran Church in Owatonna.
She is survived by two daughters, Judy Deml and Shirley (John) Borchert all of Owatonna; 6 grandchildren, Allan (Pamela) Deml, Sonya Arndt, Lynee (Roland) Curit, Kevin (Kristin) Deml, Angie (Paul) Mosher, and Jim Borchert; 15 great grandchildren, Nicholas Arndt, Braxton Deml, Dustin Arndt, Matthew Deml, Kassey Rietveld, Kelsey Deml, Kory Rietveld, Kristopher Rietveld, Jacob Deml, Gabi Deml, Alexis Mosher, Brock Mosher, Isaac Borchert, Faith Borchert and Grace Borchert; and 4 great great grandchildren, Wylie Deml, Avery Arndt, Sawyer Deml, and Adley Arndt.  She is also survived by one niece and three nephews.
Myrtle was preceded in death by her parents; both husbands; grandson, David Borchert; son-in-law, Ted Deml; and brothers, Erwin Ruedy and Reuben Ruedy.
Visitation will be held at Dennis Funeral & Cremation Services in Waseca on Monday, June 2, 2014 from 4-7 PM and continue on Tuesday, one hour before services at the church.
Funeral services will be held on Tuesday, June 3, 2014 at 11:00 AM at Grace Lutheran Church in Waseca.  Burial will follow at Woodville Cemetery in Waseca.