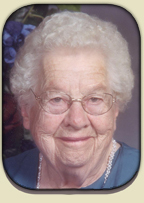 Evelyn E. Menke
EVELYN ELAINE MENKE, age 95of Waseca died on Friday, July 11, 2014 at Augustana Health Care Center in Hastings.
Born on August 23, 1918 in Woodville Township, Waseca County, Minnesota, she was the daughter of Albert and Minnie (Gehring) Menke.  She attended school in rural Waseca County.  Following her schooling, Evelyn helped on the family farm.  In 1953, she began working for Swift & Co and later as a cook at the University of Minnesota-Waseca.  Evelyn continued to work as a cook at the Waseca Hospital for 12 years and also at a nursing home in Owatonna.  In 1968, Evelyn began cleaning at Lake Shore Inn and was the custodian at St. John Lutheran Church in Waseca until her retirement in 1980.
She is survived by one sister-in-law, Loraine Menke of Waseca; one nephew, Lloyd Menke and wife, Gaye of Hastings; nieces, Loretta Menke and husband, Peter Skjervold of  Minneapolis,  Linda Long and friend, Charles Bruder of Minneapolis, cousins and other relatives.  She was preceded in death by her parents and one brother, Lowell Menke.
Funeral services will be held on Saturday, July 19, 2014 at 2:00 PM at St. John Lutheran Church in Waseca.  Burial will follow at Woodville Cemetery.   Visitation will be held on Saturday, one hour before services at the church.